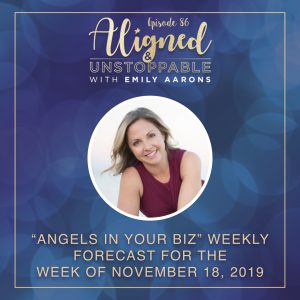 This week is all about getting clear and allowing your expansion!
NOVEMBER 18 ENERGY FORECAST:
8. Overthinking: Get out of your head and into your heart
Uh-oh! Right now you're out of alignment and you may be trying to control too much. It's time to get out of your head and into your heart. Stop right now and place both hands over your heart and say: "I release all of my limiting beliefs, negative self-talk, and worry over to my angels." It's time to STOP, DROP, AND ALIGN to your highest self, connect with your soulmate client and listen to what they are praying for from you.
3. Crystal Clear: You can BE it
If you can see it, you can BE it. There is nothing you can not have. Release control of how things should be and allow the universe to orchestrate the most incredible life full of miracles. Make sure you give thanks and celebrate all the tiny micro-wins, as the universe is showing you that it's all happening with little energetic breadcrumbs. Don't take them for granted – it's all happening! Take a look around and find evidence of it working!
24. Upleveling: Breathe deeply into your expansion

If you've been feeling a little under the weather please trust that it's simply your body's response to your massive energetic shifts. Congratulations on dreaming big, now get quiet and listen to what your body is trying to tell you! If you're not listening, it will speak louder in the form of a cold, a stomach bug, or worse! Breathe deeply into your expansion and smile knowing that you're absolutely on the verge of something BIG!
> > THANKS FOR LISTENING! GET MY FREE ABUNDANCE MEDITATION HERE!
Ready to dive deeper? Join the Mastery & Ascension membership to learn the spiritual tools to break through your blocks, align with your highest self, and gain clarity to become FULLY Aligned & Unstoppable! Simply CLICK HERE to join!