Aligned & Unstoppable Podcast
Are you an entrepreneur who's flirted with "woo"?
If so, you're in the exact right place. Maybe you've read books or watched movies about the law of attraction or manifesting and it feels like you're the ONE person it's not working for. I want you to know that you're not the one person it's not working for; you simply haven't been given the right information.
I am your host, Emily Aarons, best known as a spiritual guide to scaling your business. I teach entrepreneurs how to harness the power of energy work, spirituality and strategy to clear blocks and create breakthroughs! In this podcast you'll discover that you already have everything you need, you just need to learn how to access it. Navigate away from self-doubt and into ease, clarity and business success.
Each week you'll get interviews, inspiring case studies, meditations and more! This podcast will allow you to stop second-guessing yourself and trust your inner knowing.
All the episodes are listed below, with the most recent ones first. Just click on the image or title to read more and listen!
You can also listen here: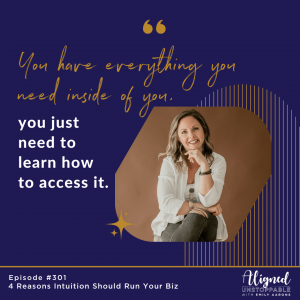 4 Reasons Intuition Should Run Your BizThere are four, what I call "no-no's," that I see so many entrepreneurs fall into. They're pitfalls that I've personally been tripped up by and it's where so many of my coaching clients get stuck. It got me thinking… I need to...