Aligned & Unstoppable is the only show that demystifies the intersection between business and spirituality. Join entrepreneur and highly sought-after intuitive energy healer Emily Aarons to understand the energetic side of growing your brand. A mixture of high-vibe spirituality and cutting-edge strategy with a dash of unfiltered, real talk that feels more "normal" than "woo-woo".
Emily uses a down-to-earth approach to get you out of the stress of overworking so that you can build a business in alignment with your soul's purpose. In addition, she features industry experts who share unconventional ways to grow and scale your business using astrology, human design, minimalism, marketing strategy, and more!
New episodes every first and third Tuesday. Listen anywhere and please follow, rate, and review the podcast if you're loving it!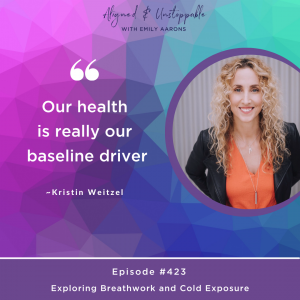 Exploring Breathwork and Cold Exposure with Kristin WeitzelIf you didn't expect breathwork and cold exposure (think ice baths!) to be about female empowerment – then you haven't met Kristin. Kristin Weitzel is on a mission to help women optimize their health so they...
What listeners are saying about the podcast…