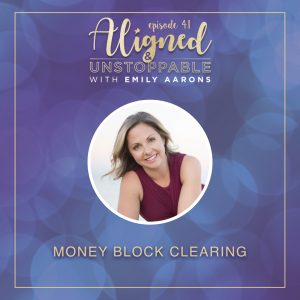 In our 41st episode of the Aligned & Unstoppable podcast, Emily livestream teaches how to clear a money block, and answers questions from her audience.
Episode Highlights:
Emily speaks about a variety of common money blocks, clears them, and helps shed light on overcoming them.

Realizing the importance of their crystal and their importance in clearing blocks.

Emily starts the process through meditation and begins working through different workplace stigmas.

Working through the constant stream of ideas from her audience and breaking through all the lies.

Emily illuminates the different energies around her audience while clearing these roadblocks.

Realizing that all issues in your past can be cleaned away through meditation and understanding of where you've been.

Emily tells everyone to work outside of her streams and gives homework to manifest something in their life.
3 Key Points:
Never let money blocks stop you from receiving what you want in life.

The energy of the world around you can be used to heal and help you live life aligned and powerful.

The key to meditation is believing that you can do immeasurably more than you know.
Tweetable Quotes:
"We know that life is not straightforward, it is never linear." – Emily Aarons
Resources Mentioned:
>> THANKS FOR LISTENING! GET MY FREE ABUNDANCE MEDITATION HERE!
Ready to dive deeper? Join the Mastery & Ascension membership to learn the spiritual tools to break through your blocks, align with your highest self, and gain clarity to become FULLY Aligned & Unstoppable! Simply CLICK HERE to join!