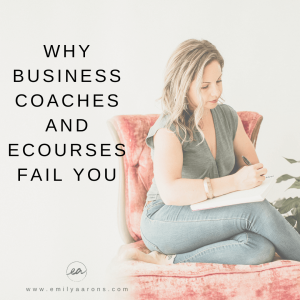 I'm pissed about something today and you might be too! Let me explain…
Recently, I was thinking about business coaches and their online courses. What's crazy is something like 94% of students don't complete their online courses – I wondered WHY???
My guides showed me a clock with all of its parts and that's when it hit me!
What MOST online business coaches and course creators are giving you is a box full of clock parts (all the parts of a successful business) and an instruction booklet (their course) and expecting that you'll be able to assemble a clock (just like theirs), based on their simple instructions.
At some point, very early on, a part of your soul goes, WTF?
Maybe you internalize it thinking something is wrong with YOU instead of the course.
THE PROBLEM, and this really fires me up, is that maybe THEY built a clock and made 6-figures (or whatever they're telling you), and now you're supposed to build a clock (like theirs) super fast and make loads of money like them!
GAH! No. NOOO!! STOP!!
Have you ever stopped to consider that's THEIR life path, but what if YOUR life path ISN'T building a clock at all?
What if you're here, in this lifetime, to build a damn rocket ship, or a telescope, or a flying electric car…you get me?
​Someone else's parts and instructions fail you every time because that's THEIR life path…and you, my friend, are not on the same path.
YOU are not broken, their plan just isn't YOURS…
Likely, that's also why you're always feeling so freaking OVERWHELMED by it!
And overwhelm kills forward action EVERY. SINGLE. TIME.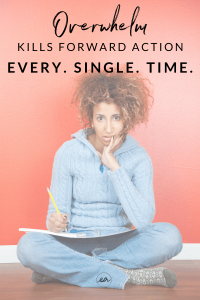 I honestly hope my point isn't getting lost in metaphors so here it is more clearly:
​You've been raised to follow instructions and raise your hand, seek help outside, and NOT to trust the wisdom from within…
But as a Business Coach for 4 years, I can tell you, to get transformative LASTING results – that model is going to fail you. Maybe not immediately, but when you are ready for that big leap in your business, it can't come from WITHOUT.
You need to seek help from INSIDE!
It's time to toss out those business models that promise you they have the answers FOR you, in favor of a ONE-SIZE-FITS-YOU program so that you can remember how to look inward for answers and guidance AND get real HUMAN support when you're feeling a little lost on your path.
Sound good?
That's exactly what I teach and preach because I, like you, followed someone else's strategies and ideas until I couldn't take the "failure" any longer…I threw out their model in favor of following MY inner guidance and so far so f'ing good!
I've learned a thing or two from both being a coach and a student and I want to give you some helpful hints to consider before you invest in that next program or coach.
Questions to Ask before you leap:
Are they giving you their formula or are they teaching tools to connect to your own authentic formula?
Is there a transformation involved in their program?
If you know people who have taken it, ask how they were before they took it and what happened after? (Make sure you're not solely paying for networking because that might not be what you're after).
Are there actionable steps that you can apply to your business NOW?
Is it a balance of "inner work" and business principles? (You want both!)
Does it fit your industry? Let's face it. If you're "woo" your "woo". If you invest in a coach or program that doesn't have inner growth included, your soul is going to feel it.
The key to investing in an effective Business Coach or eCourse is to make sure that you can apply it as you learn and build a strong foundation as you go – from the inside.
Most people don't talk about this, but you need to build the foundation both inside with your beliefs about safety and success and THEN scale your business.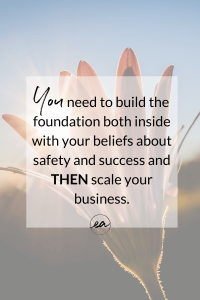 It explains why 70% of lottery winners go bankrupt! They didn't learn how to earn the money and manage it as they grew so when things start to go wrong they can't figure out how to fix it. They don't have that skill set to fall back on.
If you don't know how to go within and follow your inner guidance –well, there's no shortage of examples of people hitting it big and then losing everything.
If you don't have a solid foundation, it will crumble when your post goes viral or you finally have email subscribers signing up at 50 per day but no one buys anything or signs up for your services.
You never want to feel disillusioned by your hard work. Like you bought into a system that wasn't designed for you and forgot to BE true to yourself.
"You can fail at something you don't want, so you might as well take a chance doing what you love." Jim Carrey
If you are looking for true transformation, a way to build a solid foundation and scale your business – all from learning to do it YOUR way so that you've grown into it and can duplicate your success as needed – I offer a Mastermind group that is like no other.
I remembered all the courses and coaches that had good intentions but sold me THEIR success formula and I've created something MORE.
It is called the Align and Activate Mastermind.
It only happens twice a year.
I take a small number of entrepreneurs on a 6-month journey with me to do this work on a very deep and very intimate level inside of the Align and Activate Mastermind.
It's application only. It's NOT a discount or free program. It IS life-changing.
I'm ONLY interested in women who are ready to commit to having a BREAKTHROUGH year because with commitment and my support – anything is possible!
So, if you're ready to unlock your intuitive abilities and grow your business while marching to the beat of your OWN damn drum, you can apply to have a conversation with me to see if this Mastermind is right for you.
Want in? Apply to have a conversation about the Align and Activate Mastermind kicking off January 4th, 2021.
It's time for a one-size-fits-YOU approach that leads to the breakthrough you've been praying for.
APPLY TODAY –  Align & Activate Mastermind.
If you are on the fence I have something for you too…LISTEN TODAY and enjoy my Opening to Unlimited Abundance Meditation so you can start attracting the abundance you desire with ease.