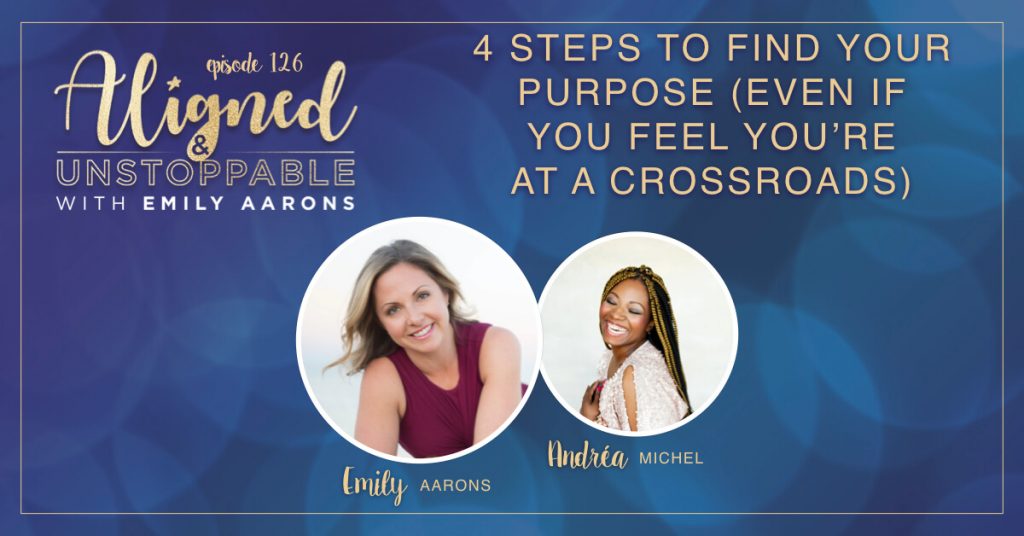 Episode 126
Today I am honored to speak to Andréa Michel about 4 steps to find your purpose even if you feel you are at a crossroads in your life.
Andréa is an intuitive transformational coach, certified life coach, speaker and retired corporate controller (accountant). She helps women leaders discover their purpose and passion, find "balance", reconnect with and find their identities so that they can create more happiness, fall in love with themselves, make more money and live an abundant life.
In her 15 plus years of working with women and doing her own work (going into the shadow), she's learned that guilt is one of those addictive emotions. In fact, it's so addictive that many women don't even know they are operating from a place of guilt and/or shame. Her goal is to revolutionize the way women THINK about their FEELINGS!
She is also the host of the Finding Bliss podcast, creator of 90 Days to Find Your Bliss group coaching program, a wife of 12 years, mom to the most amazing children she could have asked for, and a marathon veteran.
In this episode, we dive deep into the 4 steps to find your purpose framework. This is an episode you will not want to miss if you've ever wondered what your purpose is.
Make sure you grab the PDF download with Andrea's 4-Step Process and action steps!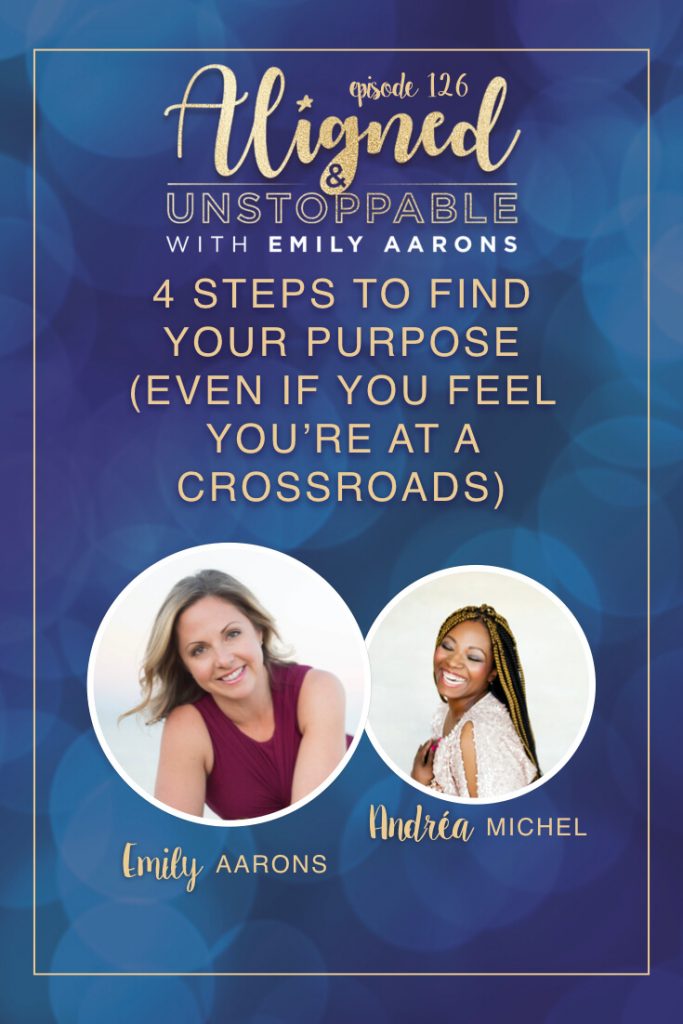 Highlights you won't want to miss:
The importance of understanding how you are responsible for your life and results and key questions you can start to ask yourself.
Why, when Andréa was 20 years old, she decided to give her life to Christ.
From victim to victor, how Andréa started to see her life from a completely different perspective.
Why you are the creator of your own reality.
Why everything changes the moment you start to look at your life through the lens of love.
Why you will always find yourself at a crossroads when it's time for us to up-level.
Why you need to allow fear and sit with it in order to overcome it.
Why it takes courage to live your purpose.
Why fear is part of the process and the only way to move past the fear is to go within.
The four-step process that Andréa uses to help people find their purpose and their bliss: shift, release, reinvent, maintain.
Why you need to learn how to shift your mindset.
Why you need to be willing to release your limiting beliefs.
The power of understanding that you get to reinvent who you want to become.
Why it's important for you to live your life in alignment with your new identity.
Shareable Quotes:
"The thing about life is that we will always find ourselves at a crossroads when it's time for us to up-level when it's time for us to do something powerful when it is time for us to do something great. There will always be a crossroad." – Andréa Michel
"So what's interesting about where I am today is that it looks completely different than where I thought I would be." – Andréa Michel
"If you're a mother, you're a business owner. You're you. You are number one. Be the change you wish to see in the world." – Emily Aarons
"Let fear come. We know what we resist persists, so instead of fighting fear like some crazy person, let all the fear come. Bring it on." -Emily Aarons

Resources to Take You Deeper:
> > THANKS FOR LISTENING! GET MY FREE ABUNDANCE MEDITATION HERE!
Ready to dive deeper? Join the Mastery & Ascension membership to learn the spiritual tools to break through your blocks, align with your highest self, and gain clarity to become FULLY Aligned & Unstoppable! Simply CLICK HERE to join!