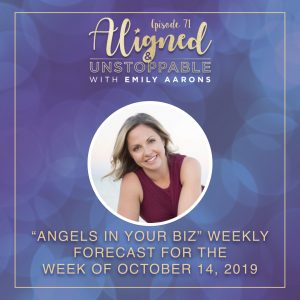 This week is all about the power of your deliberate focus!
OCTOBER 14 ENERGY FORECAST:
43. Soulmate Client: Your dream clients are in your heart.
Heed the call, my love. Your soulmate client is here and is desperate to connect with you. Close your eyes and feel gratitude in your heart. Allow that energy to expand and connect to your one soulmate client; the one who loves working with you and paying for your services, and you love them too. This is the perfect time to listen to the whispers and the little hints that you sense. If you're having writer's block, you're not connecting. Imagine there's someone out there praying just for you and your services/offers…they're actually desperate to find you, their life depends on getting your help. Not the help from someone "like you" but actually you; please stop denying them of your gifts. Ask any of these questions right now: "What would you like to hear from me? How can I best serve you right now? Why do you need me and this offer today? What do I need to do so you can find me?" Now TRUST in the messages and take action!
3. Crystal Clear Success: You can BE it!
If you can see it, you can BE it. There is nothing you can not have. Release control of how things should be and allow the universe to orchestrate the most incredible life full of miracles. Make sure you give thanks and celebrate all the tiny micro-wins, as the universe is showing you that it's all happening with little energetic breadcrumbs. Don't take them for granted – it's all happening! Take a look around and find evidence of it working!
10. Prioritize: Pick ONE thing.
Have you been feeling overwhelmed recently? The angels are reminding you to pick the ONE thing that will move you closer to your big goal and only do that. It's also a good time to look at delegating tasks that are just keeping you busy. Simply focus on serving at your highest level and do the work to support that direction.
> > THANKS FOR LISTENING! GET MY FREE ABUNDANCE MEDITATION HERE!
Ready to dive deeper? Join the Mastery & Ascension membership to learn the spiritual tools to break through your blocks, align with your highest self, and gain clarity to become FULLY Aligned & Unstoppable! Simply CLICK HERE to join!