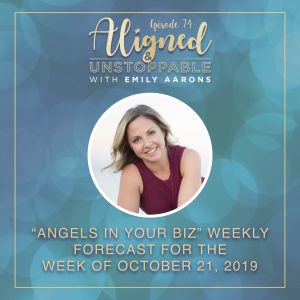 This week is about stepping into new levels and embracing your unique gifts!
OCTOBER 21 ENERGY FORECAST:
2. Breakthrough: Keep on going!
You're right there! Keep on going! You're on the verge of a huge breakthrough! Embody the best you possible…aka your highest self. What does a successful person act like? Now, close your eyes and embody their behavior, attitude, and demeanor. Then shift your actions to DO the things your highest self would do. Play the part today, not someday. Who are you not to? What you want also wants you. Ask yourself: "How much money/success/love can I tolerate?"
37. Branding: You're a unique snowflake!
Use your unique gifts in the way that comes naturally to you. Start to listen to how others describe you and hone in on your messaging. It may be time to hire an expert to solidify your brand colors, message, and who you serve. You're on to BIG things and the first step is clearly identifying who you are, who you help, and what you stand for. If you already have a clear brand, it's time for an upgrade! You've evolved so much from doing the deeper work, and now it's time your branding catches up to you. Have fun!
24. Upleveling: Breathe deeply into your expansion.
You picked this card because you're surrounded by abundance! If you can't see it yet, close your eyes and feel it. Abundance and wealth are not outside you, they're within and all around you. Money is energy and so are you. You deserve to receive higher levels of prosperity. Make a clear goal of exactly how much money you wish to align with and by when. Place your order to the universe. Now, let it in. Mantra: "I'm ready to let higher levels of wealth in now!"
> > THANKS FOR LISTENING! GET MY FREE ABUNDANCE MEDITATION HERE!
Ready to dive deeper? Join the Mastery & Ascension membership to learn the spiritual tools to break through your blocks, align with your highest self, and gain clarity to become FULLY Aligned & Unstoppable! Simply CLICK HERE to join!