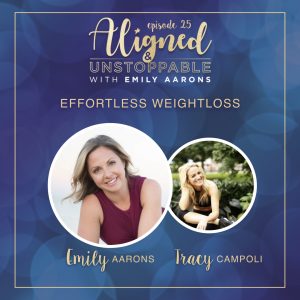 In our 25th episode of the Aligned & Unstoppable podcast, Emily talks with her friend Tracy Campoli. Tracy has an amazing, inspirational YouTube channel and instagram account.  She comes to the show to talk about health, our bodies, and the mindset behind that.
Episode Highlights:
Tracy reveals who she is and talks about her journey toward dealing with her dysmorphia and issues with her bodily image.
She shares about her trip to Italy and how it affected her mentally and how she learned from her experience there.
Emily talks about the danger of "Fat-Free" foods and their effect on your body and mind.
Emily considers how we should not forget to keep on living, rather than trying to "do the most work" or "get that paycheck."
They both talk about how they work out to help themselves and how they use it as a positive environment for change.
Emily and Tracy consider how the energy of being positive or negative affects your body, specifically with weight loss.
Tracy considers how sometimes people cannot handle the change and their anxiety gets the best of them.
3 Key Points:
The most important part of facilitating change physically and mentally is to believe that it is possible.
You have to treat yourself positively before you can begin to work toward a new version of yourself.
It takes time, energy, and commitment to move toward that new lifestyle and then your change can move toward entrepreneurship.
Tweetable Quotes:
"If you don't feel good about your body… it affects everything in your life" – Tracy Campoli
"We are so used to finding those flaws, and we're not actually great detectives at finding what we love." – Emily Aarons
"We are so focused on hustling and producing and getting work out that we're not taking breaks." – Emily Aarons
"We are never just done, checking off a box…" – Emily Aarons
"The role of a coach is to provide you with the tools, the role of the client is to use them." – Tracy Campoli
Resources Mentioned:
>> THANKS FOR LISTENING! GET MY FREE ABUNDANCE MEDITATION HERE!
Ready to dive deeper? Join the Mastery & Ascension membership to learn the spiritual tools to break through your blocks, align with your highest self, and gain clarity to become FULLY Aligned & Unstoppable! Simply CLICK HERE to join!