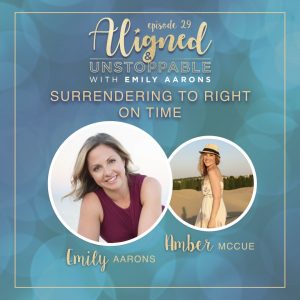 In our 29th episode of the Aligned & Unstoppable podcast, Emily talks with her friend Amber McCue.  Amber is an author, speaker, and host of The Modern CEO podcast, who is focused on helping business owners and entrepreneurs find freedom and success.
Episode Highlights:
Amber shares about where she is now, and her current shift toward surrender and patience
Finding your "Zone of Genius."
Amber talks about her place of alignment: "Right on Time."
The power of the journey comes from being aligned with your Right On Time.
The importance of showing up, and surrendering to the journey.
Amber shares about what she's moving away from and what she's moving toward.
Emily and Amber discuss plans, and how surrendering and being "right on time" plays into those plans.
Amber shares "what's on her heart" next in her journey.
Amber discusses Theta healing, and a powerful moment she experienced.
Exploring something new and different.
3 Key Points:
Realize that you are right on time for the moment you are currently in.
"Taking risks" and "living life" are how you experience the journey of surrendering.
To fully show up for others, you need the affirmation and support structure of others.
Tweetable Quotes:
"I didn't start my business for money, I started my business for freedom" – Amber McCue
"When your energy is in that high vibration and you're with other people with that same high vibration, the collective energy raises." – Emily Aarons
"You are right on time because you cannot be late for your destiny." – Amber McCue
"When someone is late…it gives us an opportunity to show empathy and re-connect with someone." – Amber McCue
"What I'm committed to, is showing up and serving." – Amber McCue
"You know where you are, and you know where you're going." – Amber McCue
Resources Mentioned:
>> THANKS FOR LISTENING! GET MY FREE ABUNDANCE MEDITATION HERE!
Ready to dive deeper? Join the Mastery & Ascension membership to learn the spiritual tools to break through your blocks, align with your highest self, and gain clarity to become FULLY Aligned & Unstoppable! Simply CLICK HERE to join!