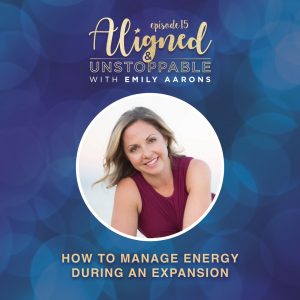 During this episode, Emily shares about what expansion is and how to recognize the impacts of an energy expansion within ourselves.  She shares some insights into recognizing what is occurring in your body, and how to manage those expansions when they occur.
Episode Highlights:
What do we mean by Expansion?

Our Physical bodies are slow to catch up to changes after an energy expansion.

Even though we have done the healing in a certain area, we are always expanding to a new level.

The physical body actually resists the expansion.

Managing the shift and change is key.

Our energetic up-leveling shows up in various ways.

Take some moments to examine what is occurring at the moment, to allow you to see the resistance to expansion.

People around you are feeding off of your energy.

Look for all of the levels of resistance, and what you can you do about them.  

If you are holding yourself back, you and everyone and everything around you is affected.  

You must take some rest, shut things down, and listen.

I share some questions to ask yourself about how to listen to your body.

Join our member group and Thank you!
3 Key Points:
 There's always an "expanding" to a new level that is occurring.

 

It's all about how we can care for ourselves on a whole new level.

 

Feel into your expansion, and ask what it is that your body requires right now to fully express yourself.
Tweetable Quotes:
"We actually have to let go of who we have been up to this point, each and every single day so that we can expand into who we want to become." – Emily Aarons.

"Where we are going, where we are expanding to, the old me doesn't have a place there." – Emily Aarons

"The Universe delivers what it delivers, in the way that it delivers it." – Emily Aarons

"This stuff that's coming out of me right now, and at every single moment, has been building for a long time." – Emily Aarons

"See where life is speaking to you, the Universe is giving you messages and signs.  It's all about whether you are able to see, and hear, and witness them." – Emily Aarons
Resources Mentioned:
---
Ready to dive deeper? Join the Mastery & Ascension membership to learn the spiritual tools to break through your blocks, align with your highest self, and gain clarity to become FULLY Aligned & Unstoppable! Simply CLICK HERE to join!