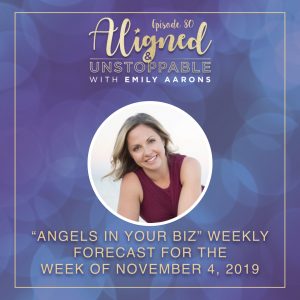 This week is about tuning in – to your body, to what feels good, and to your support!
NOVEMBER 4 ENERGY FORECAST:
35. Support: Your angels are here for you now and forever
Do you feel supported in your business? Your angels are reminding you that THEY are here now and forever as your invisible support system. When times get tough, and you feel alone, they will always be here for you. If business was easy, everyone would be doing it! There may be underlying worries or doubts inside of you today, but please let them go. You have nothing to be fearful of. As soon as you get those doubting thoughts, please hand them over to your angels and open up your mind to healthy and abundant thoughts instead. What's the BEST outcome for your situation? Focus on that and seek business friends who believe in you to keep you accountable. You've got this!
36. Trust Your Gut: Your body knows the truth
You've been doing the head stuff for way too long! Overthinking, over-analyzing, and second-guessing. STOP IT! Get out of your head and into your gut. It knows the truth, but first you need to trust yourself. There's no way to begin trusting others if you don't trust in yourself. Your gut is like your body's second brain. It's also like a lie detector. It wants you to know something. Quit trying to make sense of a situation, and just go with the knowing of your brilliant gut instinct. You don't need to justify yourself for having this intel, just roll with it. The more you take action and trust your inner knowing, the more your inner knowing strengthens. Your angels also want to validate that YES, you are strengthening your intuition by doing this practice. There's really no risk either! How's the alternative working out for ya?
33. Pivot: Tune into what FEELS good.
Something feels off. You don't need to throw away all of your work but I'd seriously consider shifting so you don't feel like you're "pushing" so hard. Your business doesn't have to be a labor of love; it can be easy. Maybe it's time to look at the story "I have to work hard to make money." Did you catch yourself? This could be a lovely place to journal what FEELS good and what feels heavy in your work. Give yourself permission to let go of what doesn't feel light and easy.
> > THANKS FOR LISTENING! GET MY FREE ABUNDANCE MEDITATION HERE!
Ready to dive deeper? Join the Mastery & Ascension membership to learn the spiritual tools to break through your blocks, align with your highest self, and gain clarity to become FULLY Aligned & Unstoppable! Simply CLICK HERE to join!