Creating Work/Life Boundaries For Yourself and Your Team To Get Better Quality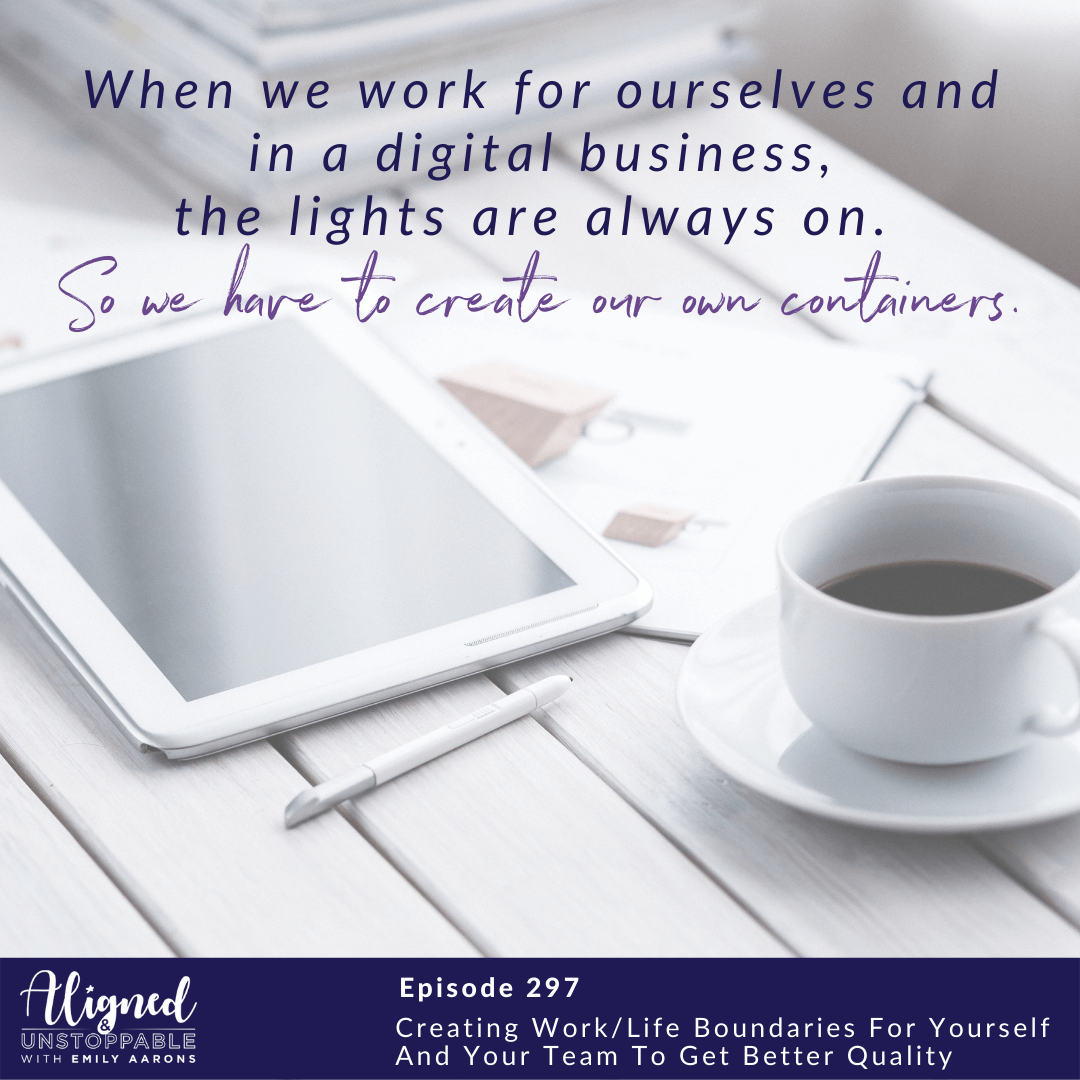 Depleting your energy, killing your productivity, it all happens when you can't put down your work and recharge the way you need to.
It's harder than ever if you have an online biz because it's as easy accessing the phone in your pocket to get sucked back into your work.
But I assure you that if you are answering emails and DM's when you aren't fully present, you're not giving quality responses anyway.
Quality work just isn't happening if you're working all hours of the day and night!
Creating sacred containers for your work and life will not only keep your energy charged, but it will also help you produce higher quality content and achieve better results.
This is an episode that every online entrepreneur needs to hear!
Highlights you won't want to miss:
[1.28] There isn't a clear end to your day when you're an online entrepreneur.
[2.40] How to get insight through meditation for what you need to hit your goals.
[4.06] How to create sacred containers for yourself and your work.
[5.50] We're a business with work hours, not a 24-hour Amazon.com.
[7.49] Planning your workday – including a "theme day" and the positive impact it has on productivity.
[10.25] Upper limiting with time-killing activities.
[10.43] Cycles for women and how they impact productivity.
[13.06] Setting expectations for your team! Quality isn't happening at 2:00 a.m.
[18.00] If you're up in the middle of the night thinking about work, don't act on it. Do this instead.
Resources to take you deeper:
Action Steps To Align Your Biz:
In meditation, go to that place where your business has hit its goal, you've had that six-figure year (or your definition of your happy place), and look back. What did you do to get there? Take those steps!
Please consider subscribing to this podcast and leaving an honest review on iTunes.Your ratings and reviews really help and I read each one.
About Emily
Emily Aarons is a business alignment coach who helps entrepreneurs use their intuition to grow their business.
Love this episode? Tune into the next one!