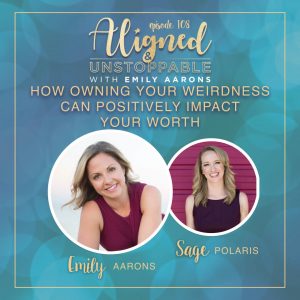 Today I am speaking to Sage Polaris about how owning your weirdness can positively impact your worth.
Sage Polaris AKA the artist formerly known as Sarah Grear has written high converting copy for more than 350 clients earning them millions of dollars.
She helps personal brands and service providers sell more of their service or offer with the words on their website. She basically makes money for the "internet famous" people we all look up to.
In this episode, you will discover how owning your weirdness and be who you really are can completely transform your life.
Highlights you won't want to miss:
How I met Sage and why I hired her to help me nail down my messaging.
How Sage went from writing copy to coaching to having live events and masterminds.
Why it's so important to understand the gap between where you are right now and where you want to go.
Why Sage decided to change her name.
Why owning your weirdness can help you to reclaim your identity.
Why if you want to be in business for the long haul, you need to remember to keep your sense of humor and be playful.
The danger of feeling attached to your clients' results and how it can affect your self-worth.
How to start using failure to ask different questions.
Why using the same strategies and systems that others use does not mean you will get the same results.
Why it's important to set revenue goals without attachment.
Why magic happens when you lean into your strengths.
Why, when making an offer it's so important to qualify your audience to make sure they are a good fit.
Why copy is not the solution if you don't have your offer and audience dialed in.
Why you need to raise your price to do your best work and stop feeling like your talents are being wasted.
The importance of understanding that pain is not a bad thing; on the contrary, it's your body telling what it needs.
Why there is a price to pay for the transformation that you wish to achieve.
Why you are doing people a disservice when you don't serve them at your highest level.
Why it's key to have a long-term vision to help guide you.
Shareable Quotes:
"I do feel wise at times. And at times I feel like the more I learn, the less I know. And I like being in that space too." – Sage Polaris
"I feel like step one of my evolution in my business prior to changing my name was to stop taking things so seriously. This doesn't have to be serious. This should be fun. And if you want to be in it for the long haul, you'd better have some fun." – Sage Polaris
"A lightworker is somebody who is here to shine their light so that other people can shine their light too." – Emily Aarons
"I feel like I'm doing a disservice if I'm not serving at my highest level every day." – Emily Aarons
Resources to Take You Deeper:
> > THANKS FOR LISTENING! GET MY FREE ABUNDANCE MEDITATION HERE!
Ready to dive deeper? Join the Mastery & Ascension membership to learn the spiritual tools to break through your blocks, align with your highest self, and gain clarity to become FULLY Aligned & Unstoppable! Simply CLICK HERE to join!