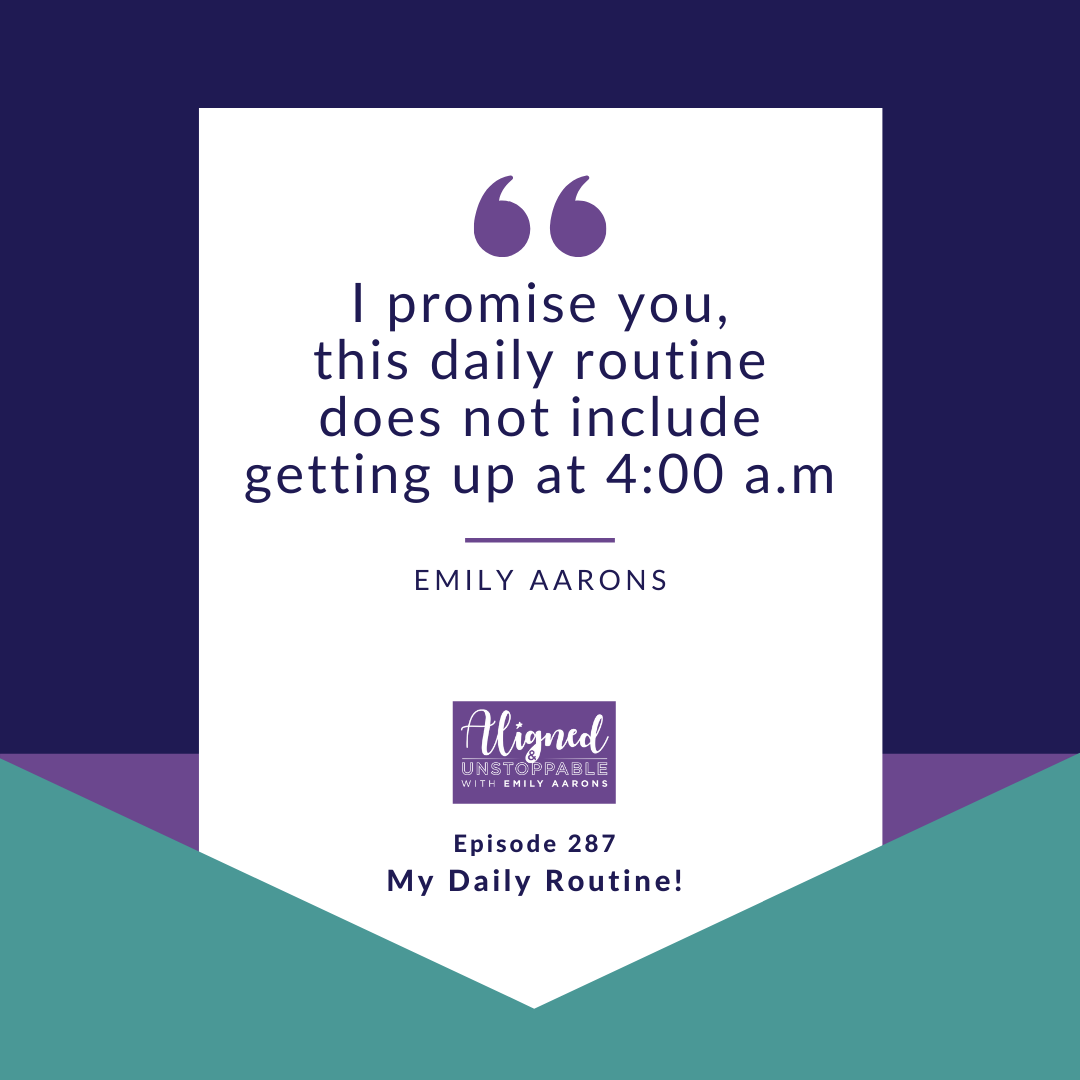 I asked listeners what they would like to hear as I headed into recording podcast episodes for this month, and I was pleasantly surprised by the great response!
The idea to share my daily routine came from one of you and it really stood out to me.
The reason I loved this question is because when I used to wonder how successful entrepreneurs organized their days it usually started at some crazy hour in the morning. It wasn't anything I could apply to my life with two small children when I wasn't even consistently sleeping at night.
I promise you, this does daily routine does not include getting up at 4:00 a.m. and is much more reasonable!
If you've been curious as to how I balance work, fitness, and wellness, and what my daily non-negotiables are, then this one is for you.
I'd love to hear what we have in common for our daily routines and what you do differently. Let me know!
Highlights you won't want to miss:
[1.09] What other successful people were doing just didn't resonate with me when I got an inside look.
[2.19] What I do before I even get out of bed and the questions I ask my higher self.
[4.59] I still haven't touched a computer or electronic device, I do this instead.
[6.29] What I eat for breakfast (it's hearty!)
[8.01] How I begin my work, chose my clothes, and create a sacred space for it.
[9.27] Throughout the day and my 90-minute interval strategy.
[11.01] "Clocking off" for the day and how I refuel once my energy has waned.
[12.01] Mom mode and how I keep it separate from work.
[12.27] Dinner and how I check in with my higher self to decide what to eat.
[14.24] How we wind down as a family.
[16.24] "Counting Gratefuls" instead of counting sheep.
Resources to take you deeper:
Action Steps To Align Your Biz:
Try starting your day by tuning into your higher self and asking "What would be the most beneficial for my body and life today?" Do the same again when choosing what exercises to do for the day, what to eat, and how to unwind at the end of the night. Getting guidance from your higher self for your highest good can be life-changing!
Please consider subscribing to this podcast and leaving an honest review on iTunes.Your ratings and reviews really help and I read each one.
About Emily
Emily Aarons is a business alignment coach who helps entrepreneurs use their intuition to grow their business.
Love this episode? Tune into the next one!