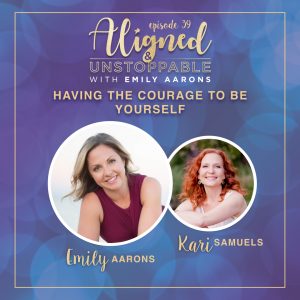 In our 39th episode of the Aligned & Unstoppable podcast, Emily talks with her friend Kari Samuels. Kari is a YouTuber, psychic, and energy healer. She comes to the show to teach us how to feel comfortable in your own skin.
Episode Highlights:
Kari shares her past and how she became an energy healer and psychic.

Talking about the difficulty of coming out as an energy healer and how it was received.

They both consider the idea of intuition and what it eludes to.

Kari and Emily consider how different messages can mean a myriad of different things.

Kari talks about how she ended up becoming a healer and the events leading up to her readings.

They speak on the reality of the world versus what they see in themselves and others.

How to learn from your spouse whether or not they share the same interests as you.

Knowing how moving away from home affects you and your spiritual journey.
3 Key Points:
When you feel something or see anything that connects with you, search out and find why it affected you.

When you decide to be yourself, you will find that you are more confident and successful.

Your life is a constant journey; when all is said and done, you will never be where you began.
Tweetable Quotes:
"One of the reasons I've been teaching this is because it feels so natural." – Kari Samuels

"The fear is that everyone is so cognizant, the fear is known and scary" – Kari Samuels
Resources Mentioned:
>> THANKS FOR LISTENING! GET MY FREE ABUNDANCE MEDITATION HERE!
Ready to dive deeper? Join the Mastery & Ascension membership to learn the spiritual tools to break through your blocks, align with your highest self, and gain clarity to become FULLY Aligned & Unstoppable! Simply CLICK HERE to join!