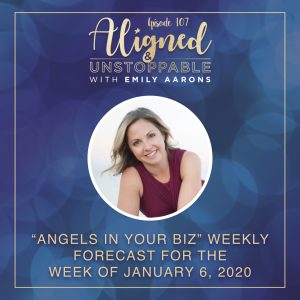 Let's kick off the new year with a killer forecast…
JANUARY 6 ENERGY FORECAST:​
​41. Marketing: Get More Visible!
Energy is amazing to attract your soulmate clients but there's something to be said for proper marketing. You must put yourself out there in a way people can clearly understand how you can help them AND ask for a sale! The money you make is a direct reflection of how many people you're helping. If you struggle with figuring out the right words, get help! There are too many people who need you. Put yourself out there and make an offer today.
38. Clear Your Energy: Stop, drop and realign with your highest
Are getting too caught up in your head? Maybe you're not sure what your next steps are? Stop, drop and realign with your highest and best. Your guidance system is here; all you need to do is close your eyes, imagine you're in a beautiful white sparkly bubble, and your angels will do the rest. Breathe in deeply, let go of anything not serving you, and open up to higher levels of creativity, joy, connection, excitement, and abundance! The world needs you to be in alignment and serving at a high frequency!
2. Breakthrough: Keep on going!
You're right there! Keep on going! You're on the verge of a huge breakthrough! Embody the best you possible…aka your highest self. What does a successful person act like? Now, close your eyes and embody their behavior, attitude, and demeanor. Then shift your actions to DO the things your highest self would do. Play the part today, not someday. Who are you not to? What you want also wants you. Ask yourself: "How much money/success/love can I tolerate?
> > THANKS FOR LISTENING! GET MY FREE ABUNDANCE MEDITATION HERE!
Ready to dive deeper? Join the Mastery & Ascension membership to learn the spiritual tools to break through your blocks, align with your highest self, and gain clarity to become FULLY Aligned & Unstoppable! Simply CLICK HERE to join!