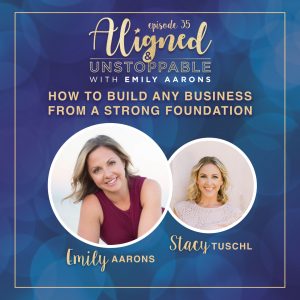 In our 35th episode of the Aligned & Unstoppable podcast, Emily talks with her friend Stacy Tuschl. Stacy is a bestselling author, speaker, and founder of multiple 7 figure businesses. She comes to the show to consider how to build a business and create a strong foundation.
Episode Highlights:
Stacy considers how to work on upscaling a business that is primarily brick-and-mortar.

Stacy talks about her vision and how she needed to upscale to learn more from her business.

Stacy speaks about how she had to slowly remove herself from her work to help it grow.

Stacy considers how she managed her expenses and how she had to be ever changing to grow.

Emily talks about her struggle to separate from her business and work in the lower levels to help her business.

Stacy references again her vision and desire for her business to become independent and build assets.

Learning through reading and going to different conferences to become a better person.

Stacy talks about having to moderate her travel to spend time with her family and be there for her children.

Both Stacy and Emily speak on their spouses and how they try to convince them to go to their conferences together to learn.

They talk about how their traveling is great to teach their children about the real world and how it works.
3 Key Points:
To truly make your business grow, you need to separate yourself to moderate successfully.

To continually grow your business you must always be able to learn from unconventional sources.

Make sure to always leave time to spend with your family because it is important to have a life away from the business world.
Tweetable Quotes:
"I wanted freedom more than I want the money…" – Stacy Tuschl

"Instead of feeling guided, they are feeling this pressure of hustling." – Emily Aarons

"Even just doing a one night or two night trip can be the break we need." – Stacy Tuschl
Resources Mentioned:
>> THANKS FOR LISTENING! GET MY FREE ABUNDANCE MEDITATION HERE!
Ready to dive deeper? Join the Mastery & Ascension membership to learn the spiritual tools to break through your blocks, align with your highest self, and gain clarity to become FULLY Aligned & Unstoppable! Simply CLICK HERE to join!