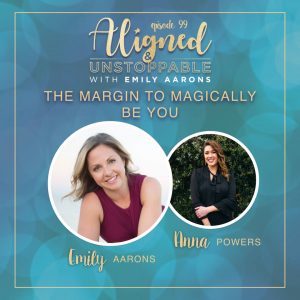 Today I am speaking to Anna Powers about why you need margin in your life to create magic.
Anna Powers is an Online Business Mentor and an Expert Copywriter who's passionate about helping people pursue their powerful purpose in business.
She left her 8-year career as a civil litigation attorney and now helps others create, grow and scale impactful online businesses.
Through her Magnetic Messaging® program, she helps online business owners attract quality leads and make consistent sales through captivating copywriting. She's also the host of the Faith Forward Online Business Podcast, the Magnify Mastermind, and the 3-day Magnify Live event.
In this episode, you will discover why you need margin in your life to create magic and become the best version of yourself in business and life, and why having a vision of how you want to align with your highest self and goals is not enough if your day to day does not match that vision.
Highlights you won't want to miss:
How Anna got started by looking for a way to bundle all her skills and talents so she could look for a new job.
How she became a health coach as a result of following her passion for health and fitness.
Understanding the difference between following your passion and discovering what you want to do for work.
How Anna switched her niche and started to help people to grow their online business.
Why it's important to create margin in your space, business, and life to become the best version of yourself.
How to organize your day to day by understanding that there is a difference between the people who want your time and the people who deserve your time.
Why sometimes you have to turn down certain things so you can do the things that you have spent your whole life preparing for.
Why it's important to build confidence when you are starting out.
The importance of understanding that no one is coming to save you and that the people who make it are the ones who are consistent and resilient.
Why, when you raise your rates you start to attract people who are ready for a massive transformation.
Shareable Quotes:

"The people who make it are the ones who are willing to be consistent, persistent and resilient. They don't expect anyone else to show them the answers." – Anna Powers
"We can't predict someone's timeline and how long it's going to take."- Anna Powers
"Every time I have raised my rates, I have become way better at what I do because I can serve at my highest level." – Emily Aarons
"No one has access to your energy unless you give it to them." – Emily Aarons
Resources to Take You Deeper:
> > THANKS FOR LISTENING! GET MY FREE ABUNDANCE MEDITATION HERE!
Ready to dive deeper? Join the Mastery & Ascension membership to learn the spiritual tools to break through your blocks, align with your highest self, and gain clarity to become FULLY Aligned & Unstoppable! Simply CLICK HERE to join!