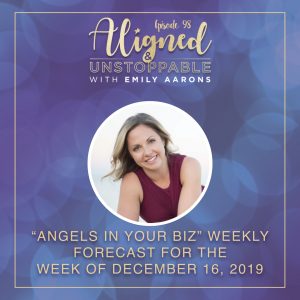 This week is about taking responsibility to move forward – with lots of support along your way!
DECEMBER 16 FORECAST:
11. Responsibility: "I am NOT a victim"
The universe isn't testing you, it's reflecting you. It's time to take full responsibility for everything happening within you and all around you. If you aren't happy with the way things look, change them. Remember, whenever you point your finger, there are three pointing back at you. Time to look at your own stuff a little deeper and notice the stories you've been telling yourself about this situation. Start by saying: "I choose this, I am NOT a victim." The more we assume responsibility for our thoughts, feelings, energy, and circumstances, the more those things begin to improve.
 ​39. Guardian Angels: Infinite support is here
You've been working so hard! When you pull this card, 100 guardian angels appear around. Allow them to alleviate your anxiety, worry, doubt, and stress. Take a deep breath and know that you're taken care of today and everyday. Even though they're invisible, your guardian angels are always here to surround you and infuse you with unconditional love.
21. Manifestation: You are a manifesting machine
You're literally a manifesting machine. Your thoughts are electric, and your body is magnetic. When your thoughts and feelings align, you can manifest instantly. Forget "realistic" or "timing"; you're the one with the power. Today is the day to proclaim what you desire and by when. Release any stories around your wants and repeat this mantra: "The more I say yes to my desires, the more the Universe says yes to me." Start small with a quarter, then a parking spot, then go wild; you deserve it!
> > THANKS FOR LISTENING! GET MY FREE ABUNDANCE MEDITATION HERE!
Ready to dive deeper? Join the Mastery & Ascension membership to learn the spiritual tools to break through your blocks, align with your highest self, and gain clarity to become FULLY Aligned & Unstoppable! Simply CLICK HERE to join!