Angels in Your Biz Weekly Forecast December 6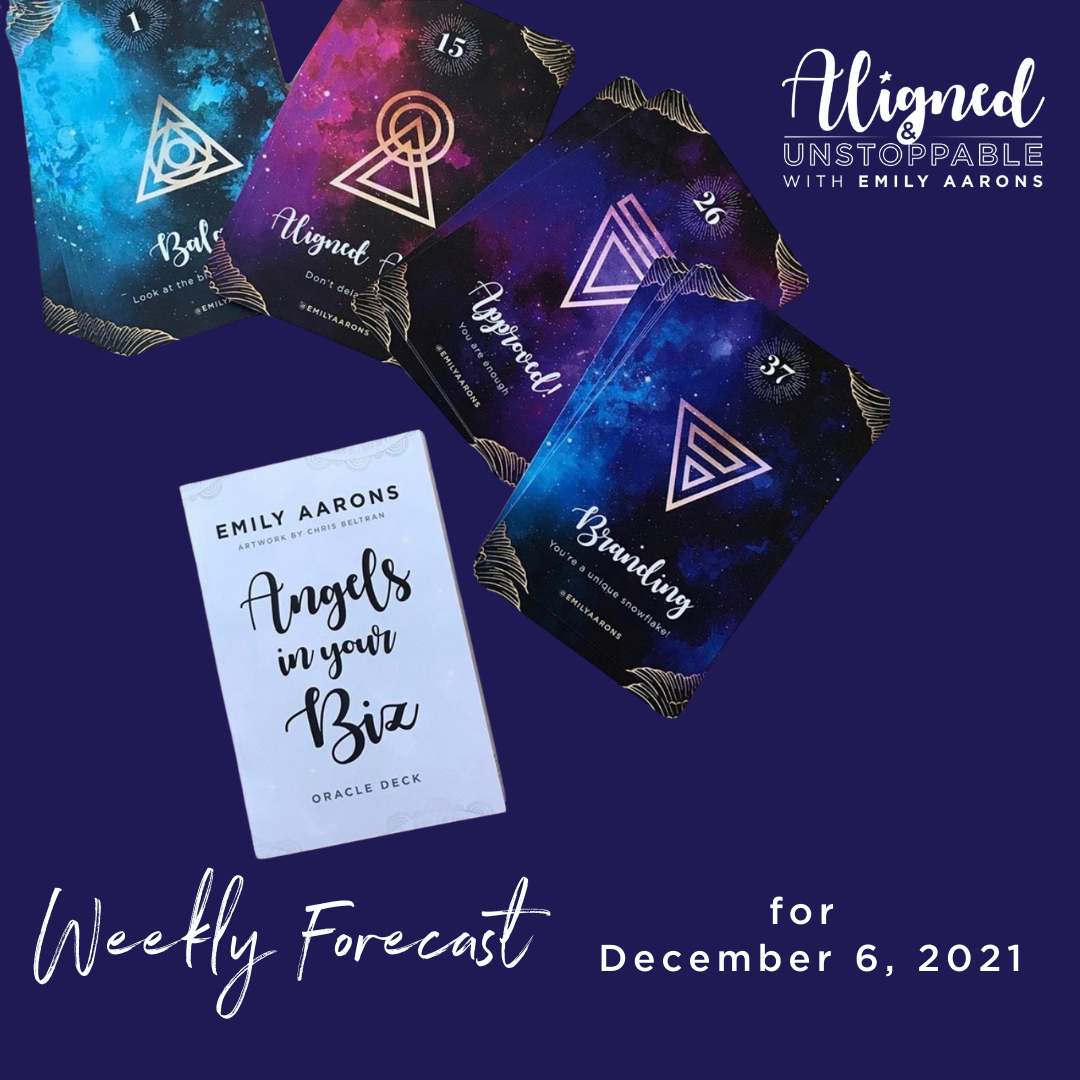 Episode 331
Happy December 6th!
We're kicking off December with lots of love from your spirit team!
December 6 Energy Forecast:
33. Pivot: Tune into what FEELS good
Something feels off. You don't need to throw away all of your work but I'd seriously consider shifting so you don't feel like you're "pushing" so hard. Your business doesn't have to be a labor of love; it can be easy.
Maybe it's time to look at the story "I have to work hard to make money." Did you catch yourself? This could be a lovely place to journal what FEELS good and what feels heavy in your work. Give yourself permission to let go of what doesn't feel light and easy.
​
​
25. Wealth: You're surrounded by an abundance
You picked this card because you're surrounded by abundance! If you can't see it yet, close your eyes and feel it. Abundance and wealth are not outside you, they're within and all around you. Money is energy and so are you.
You deserve to receive higher levels of prosperity. Make a clear goal of exactly how much money you wish to align with and by when. Place your order in the universe. Now, let it in. Mantra: "I'm ready to let higher levels of wealth in now!".
​
​
34 Power: You're the expert
You're the expert; OWN IT! Your guidance is asking you to stop looking outside yourself for validation. You are ENOUGH. Please stop comparing yourself, your business, or anything else to other people. Chances are you're not even comparing the right things anyway! They don't have what you do, sister, not even close. Maybe there's a part of you that doesn't fully trust in your own uniqueness, but your angels do.
If you're open to it, they'd like to reveal it to you now. Pulling this card also means you're on the brink of stepping into your power on a whole new level. It takes courage to be you, are you ready to go to that next level?
Love this episode? Tune into the next one!
Please consider subscribing to this podcast and leaving an honest review. Your ratings and reviews really help and I read each one.