How To Choose the Right Strategy For YOU As A Spiritual Entrepreneur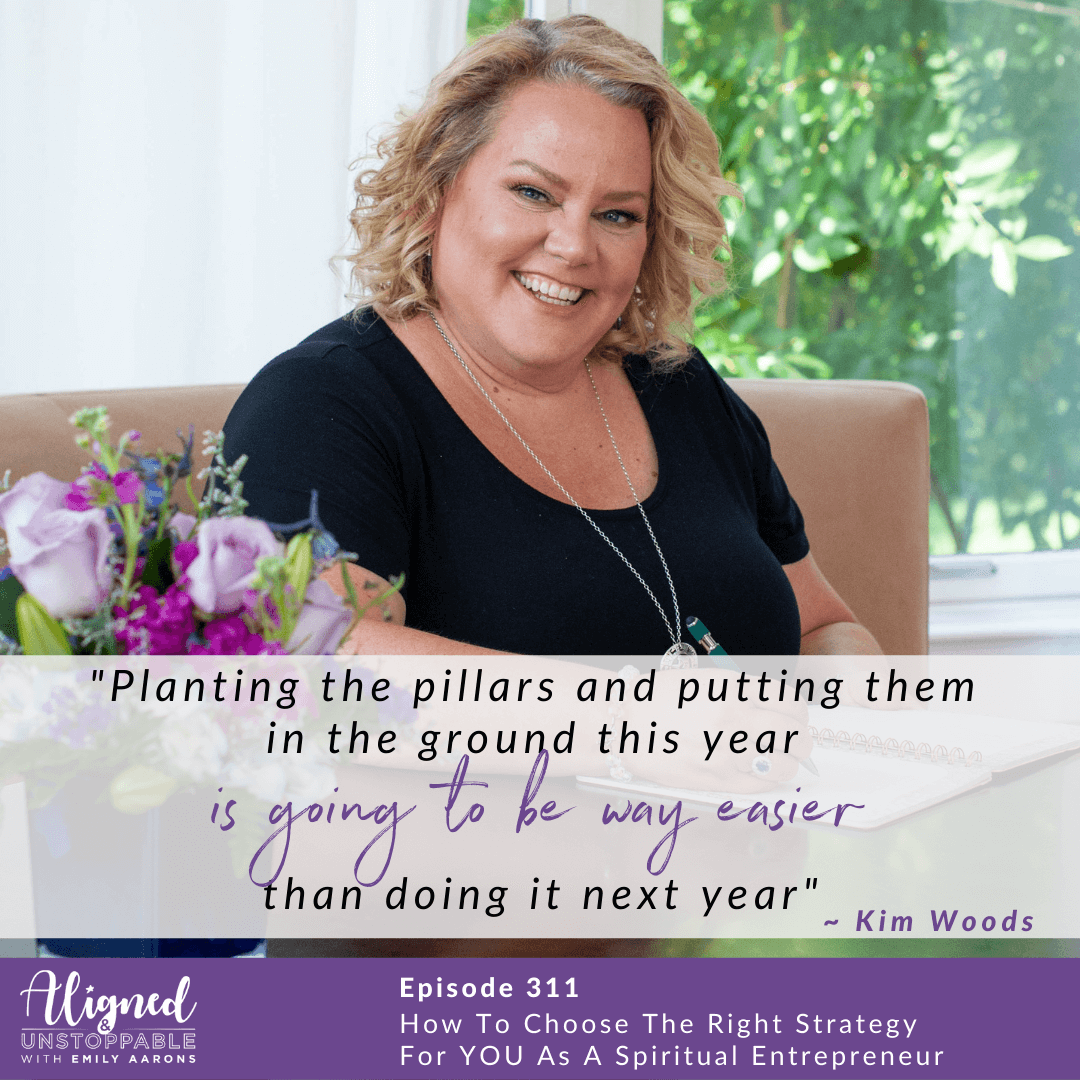 She's baaack! Kim Woods is back as my guest to talk about marketing as a Spiritual Entrepreneur. We talk about how marketing can be impacted by the planets, our cycles as women, AND the need to be relentless to make stuff happen in your biz.
Kim has been a guest on my podcast many times, she comes annually to talk about the year ahead astrological forecast, and I always hear listeners saying how invaluable her insight is.
But what I love most about Kim is that she can be esoteric, talk all about crystals, and yet she's still really grounded.
I promise you will come away with something new to think about, or a new way of looking at your current situation – she never disappoints!
Highlights you won't want to miss:
[3.10] One reason your great course or products don't sell.
[5.45] The shame spiral you want to avoid!
[8.24] Relentlessness in your business combined with passion (Magic combo!).
[11.55] How a warm or cold audience affects your marketing.
[13.24] The importance of your "receiving channel" being open.
[15.58] The power of video in your business strategy.
[19.38] Debriefs and how they help you improve for next time.
[20.10] How the astrological cycles affect your marketing.
[23.10] The action you'll want to take this year – don't wait!
[30.17] Don't let things happen TO you, how to feel empowered instead.
Resources to take you deeper:
Action Steps To Align Your Biz:
Plant your "pillars" now before the new year. According to Kim, having a strong foundation going into the next year will pay off and be much easier to do. Make sure to listen to the podcast and then take your inspired action steps!
Please consider subscribing to this podcast and leaving an honest review on iTunes. Your ratings and reviews really help and I read each one.
About Kim
Kim Woods is a Spiritual Leader and Transformation Expert who combines her powerful intuitive gifts with 30+ years of business experience through her revolutionary True KLT ™ Process. She shows women that when they like and trust themselves, they make better decisions and attract their soul mate clients.
You can find her here:
Love this episode? Tune into the next one!