Episode 142
Happy March 30th Lightworker!
As we wrap up March, your angels have some incredible insights for you…and they lead to unlocking your abundance!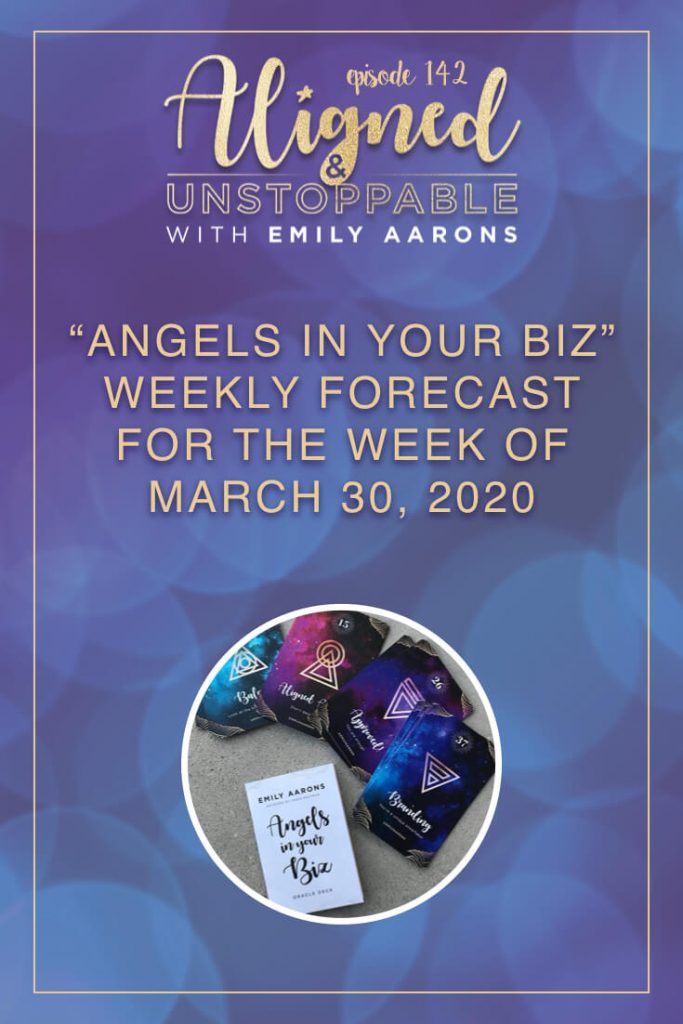 MARCH 30 ENERGY FORECAST:​
​12. Self-Care: It's time to take a break
You think you're gonna hit that goal by overworking and hustling? NO. It's time to take a break. Your angels don't care if you brew a cup of tea, draw an epsom salt bath, get a massage, or take a 10-day vacation…but you MUST STOP. The mantra for you right now is: "The more self-love I give, the more money I'll make." This is a non-negotiable! Do you get this card a lot? Think of it as a loving dope-slap from spirit. Take the hint before you get sick.
18. Gratitude: Give thanks for all you have
Give thanks to all that IS and all that is coming. If you've been complaining about lack, now is the time to shift that energy into gratitude. Did you know that gratitude and abundance are connected? One does not appear without the other. Take a minute to write down 5 things you're thankful for right now, 5 things you're thankful for that are coming in the future and 5 things you're grateful for from your past. Practice connecting into your heart center at bedtime, and imagine you're sending love and light out to all of those places. This practice is especially helpful during the launch period. For those who've already said YES to your offering and those who are about to.
25. Wealth: You're surrounded by abundance

You picked this card because you're surrounded by abundance! If you can't see it yet, close your eyes and feel it. Abundance and wealth are not outside you, they're within and all around you. Money is energy and so are you. You deserve to receive higher levels of prosperity. Make a clear goal of exactly how much money you wish to align with and by when. Place your order to the universe. Now, let it in. Mantra: "I'm ready to let higher levels of wealth in now!
> > THANKS FOR LISTENING! GET MY FREE ABUNDANCE MEDITATION HERE!
Ready to dive deeper? Join the Mastery & Ascension membership to learn the spiritual tools to break through your blocks, align with your highest self, and gain clarity to become FULLY Aligned & Unstoppable! Simply CLICK HERE to join!