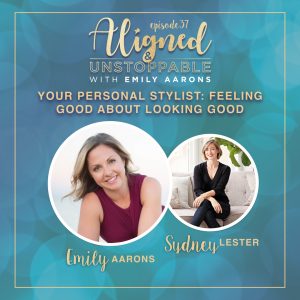 In our 37th episode of the Aligned & Unstoppable podcast, Emily talks with her friend Sydney Lester. Sydney is a personal styler, fashion blog writer, and creator of Chic Stripes. She comes to the show to teach how to style yourself to feel confident and powerful.
Episode Highlights:
Sydney talks about her past and her journey to where she is now.

Consider a new mindset of not worrying about money and focusing on people.

Sydney speaks on her blog's growth and the creation of Chic Stripes.

Learning how to figure out your style, based on your body and your interests.

Sydney shares a styling example and how she figured out an effective method of finding styles.

Realizing that a picture can affect how you feel about an outfit, and make you feel better about fashion.

Sydney speaks on her past as a social worker, journey to more confidence, and transition into her current self.
Understanding that some outfits faze out and should be let go even if they are emotionally prominent.

They talk about how the process moves forward along with understanding the inclusion of self-care practices.
3 Key Points:
To find your personal style, understand that you must feel good in everything you wear.

Understand that your transition will not take the same amount of time as any other person.

Changing your wardrobe to feel better about yourself is a journey that takes time and continual practice.
Tweetable Quotes:
"Becoming this person (a "successful" human), is a different mindset." – Sydney Lester

"It is a journey, finding someone else's style." – Sydney Lester

"What really matters is finding pieces that you can rework to wear differently with other clothing." – Sydney Lester

"Time is an important tool and resource." – Emily Aarons
Resources Mentioned:
>> THANKS FOR LISTENING! GET MY FREE ABUNDANCE MEDITATION HERE!
Ready to dive deeper? Join the Mastery & Ascension membership to learn the spiritual tools to break through your blocks, align with your highest self, and gain clarity to become FULLY Aligned & Unstoppable! Simply CLICK HERE to join!