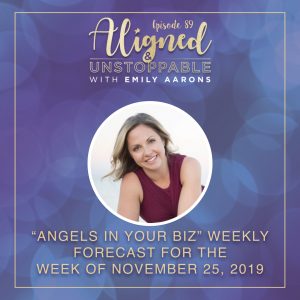 This week is all about facets of living into your success!
NOVEMBER 25 FORECAST:
 14. Visualize: See it. Be it.
Don't phone it in! If you can't visualize your best life ever, get someone to help prompt you. Who do you admire or look up to? What brands catch your eye? What celebrities do you follow? What you see in them is a reflection of what's possible for you too. If you can see it, it's already yours. Angels are standing by waiting to deliver all your heart's desires right now and every day after. Be clear with what you want and know you're worth it. Your mind wants to help you get it sooner than later, but don't be impatient! The universe is conspiring to help you. What if that wish were coming true today? How would you act in response? Show gratitude for that vision already happening and for every single day that you're aligning to it.
 24. Upleveling: Breathe deeply into your expansion
If you've been feeling a little under the weather please trust that it's simply your body's response to your massive energetic shifts. Congratulations for dreaming big, now get quiet and listen to what your body is trying to tell you! If you're not listening, it will speak louder in the form of a cold, a stomach bug, or worse! Breathe deeply into your expansion and smile knowing that you're absolutely on the verge of something BIG!
 17. Celebration: Share your SPARK!
Share your SPARK! Every single little micro-win must be celebrated because it breeds more of that good stuff! When you celebrate with deep gratitude in your heart, the universe gives you more to celebrate! You're in the perfect spot to shout your wins from a rooftop! Your energy is so good right now! Use your wins to attract your soulmate clients like a moth to the flame! Treat yourself to something special today; act as if it's your birthday!
> > THANKS FOR LISTENING! GET MY FREE ABUNDANCE MEDITATION HERE!
Ready to dive deeper? Join the Mastery & Ascension membership to learn the spiritual tools to break through your blocks, align with your highest self, and gain clarity to become FULLY Aligned & Unstoppable! Simply CLICK HERE to join!