Easy Ways To Boost Your Business Using Crystals
Unlock the mystique of crystals and bedazzle your business with the unique energy they provide!
This special episode promises to teach you the magic of incorporating crystals like Selenite, Smoky Quartz, and Fluorite into your business. Each crystal contains its own distinct properties such as enhancing communication, diminishing stress, as well as boosting focus and energy.
During this episode, I share some of my personal secrets on using crystals for business success. I talk about how to program crystals, harness the power of crystal grids, and meditate to tap into the energy of your crystal. Plus, there's a bonus PDF shopping guide to help you source the best crystals and make the most of them!
Break away from restricting norms and let your spiritual side shine in your business persona.
Are you ready to infuse your business with a dose of magic and mysticism? Let's begin!
Highlights you won't want to miss:
[0:02:47] The Power of Crystals
[0:12:54] Crystals for Protection and Healing
Click here to read the full transcript ‣‣‣
Welcome to the Aligned and Unstoppable Podcast. I am your host, Emily Aarons, and this is the Spiritual Startup Series. So if you are a new entrepreneur or maybe you are still in corporate doing a little side hustle, or even if you've been an entrepreneur for a little while, I'm going to share five incredible episodes that are going to help you to use your intuition to build your confidence and ultimately to build a life and a business that you love.
So this week's episode, I am focusing on crystals! – one of your favorite topics and definitely one of mine. So this is definitely more of a visual podcast. So for those of you who are just listening to this episode, I would definitely invite you over to my YouTube channel. So go to emilyaarons.com/youtube and watch this video. We will obviously share it in the podcast show notes, we'll put a link to this video of course, if you are out walking, and you are listening, I want to watch it later.
Plus we are going to have a supplemental PDF. It's going to have a shopping guide, where to find the best crystals, how to clear them, how to use them in your business. Some also like little secret of things I like to do with my crystals. That sounded bad, but it's not.
Anyway. So let's get into this week's topic about how to use crystals in your business. So first and foremost, crystals are awesome. You know it and I know it. If you're somebody who is new to using crystals, let's start from the top. So basically, I like to use crystals for a number of reasons. One of the best things that you can do if you're new to using crystals is have them around your house to, you know, add to the environment.
One of my favorite crystals I'm going to show on this video is Selenite. So this Selenite wand, you know, usually comes in these kind of like wands and they have these little lines on them. They're very they tend to be kind of smallish, but there's obviously all sorts of different sizes and shapes. Some are polish, some are rough. You can find them just about anywhere. But what I love about Selenite, and especially for business owners, is that Selenite helps with communication as well as clearing energy.
Selenite can also clear the energy of other crystals if you put it near it. So what I love about Selenite is I always have it near my desk. It helps with communication, it helps with that clarity. It's a great one to have. If you don't know anything about crystals, get some selenite.
But I also like crystals for other things. They obviously they boost my mood. They can help me to hold my intention, whether it's for me personally, whether it's on my body, whether I stick them in my bra or my pocket. And they also can set an intention for programs or offerings so that you don't have to constantly be keeping your programs on your mind. You can set your intention and create even a crystal grid.
So I'm going to share some of my favorite crystals and sort of why they're my favorite crystals. So I'm kind of going to just go randomly. So let's say, yeah, let's do this one first. So this one is a Smoky Quartz, it's a cluster. And I actually bought this and No – I didn't buy it, I got it as a gift. I take that back. I got this one as a gift. I did buy another pyramid-shaped smoky quartz. And I keep this on my husband's bedside table.
So Smoky Quartz is great for letting go of stuff, and clearing the energy. And also, just before I keep getting into other crystals, let me just preface this and say I am not a certified crystal worker or whatever the certifications look like. I have definitely read a number of books about crystals. I talk about crystals in my Integrated Energy Alignment Practitioner Training a lot more in-depth, but this is more of like my personal view.
So if you're one of those people who's like, wanting to fact-check me, please, by all means, you're welcome to look up the actual intention and meaning behind these crystals for yourself. And if what I'm sharing doesn't resonate with you or doesn't match a description you find on the Internet, please don't come screaming at me. This is just my personal view and how I use them.
The other thing I want to invite you to do is have an open mind. Whether you've been using crystals for a while and you're like, I already know what Smoky Quartz is for Emily, I don't really need to hear about it. Maybe this is a new way that you could use crystals that you've never thought about. And I will provide a little bit more of like a meditation at the end of this episode so that you can start to channel energy from crystals to, so back to Smoky Quartz.
I really like this. It helps if you think about, like, letting go of the stressors of the day. That's why I keep it on my husband's bedside table, because sometimes he gets a little stress and it's hard for him to let it go. So that's why I use it for him. For me, in my business, I love smoky quartz, especially in a grid. If I'm making a grid for myself or for clients or for a program. I love Smoky Quartz because I feel like it's easily programable. It's given that intention of like, letting go of what doesn't serve. So that's what I love Smoky Quartz for.
This one right here, this is fluorite. So this is a heart-shaped, polished fluorite. It has really cool gray and teal, green and purple. Obviously, it's really pretty. I love using fluorite in grids. I also love putting fluorite on my desk so when I'm working, it helps me to feel more focused, more aligned, more energetically charged.
I tend to feel like when I'm with fluoride, it's like I'm more intellectual even. Now listen, you can probably look up the meaning of fluorite in going to say intuitive and sensitive and blah blah blah.
For me, this is how I feel around fluorite and I like using fluorite, like I said, and I mentioned grids a couple of times. So again, I will put in the PDF that you can download with this episode, sort of like a rough layout of what a grid might look like for you for a program.
All-time like classic favorite is a clear quartz and I am a trained polarity therapist, registered polarity practitioner, and advanced energy practitioner. And when I used to see clients in person, I had clear quartz crystals that I would place over their seven main chakras. And I also had one that's actually over here, a bigger size that I would use to clear the space and to set my intention and moving the energy for clients in session.
That's kind of why I love clear because it is like a magnifier. You can put it on an area to open up the energy to let things go. It's easily programable, you know, different clear quartz have colors to them sometimes, and I find myself drawn to usually ones that you can kind of see through. This is unpolished. This is a rough sort of natural form and that's why I'm really drawn to it.
Alternatively, this one is called a Lemurian Quartz. And from the video you can maybe see it has these little striations here, these little stripes along the side. And it's been said, like when I first got this, I was really drawn to it and it's been said to help clear past life karma. When you touch these little lines. I do find that when I'm doing a lot of Akashic work, I tend to be drawn towards this crystal.
And one of the things that I teach to my students, the Integrated Energy Alignment Students, is about how to use crystals in their practice. And also when you are drawn to a crystal for a client, what does that mean and how do you work with that? So, you know, my students are trained to channel even before their session starts.
So let's say they're channeling and they're really drawn towards lemurian quartz that might automatically signal part of their brain to say, Oh, you know what, we might be working on some past life stuff today. We might be looking into the Akashic Records today because this crystal is the one that wanted to work with me. Okay?
We all know it,  we all know it. we all love it. It's rose quartz. This is a nice, giant, unpolished rose quartz. This is a little one. You know what the size is what it is. But I love rose quartz. I tend to use this that resonates with heart. With your heart chakra with love, unconditional love. And again, whether you're putting in a grid, you're using it on yourself, you're putting it on your desk, It really brings this loving energy. So let's just say, for example, you are writing sales emails. Wouldn't it be nice to work with a rose quartz so that you can bring more love and compassion to the words that you're writing? It's a really nice crystal for that.
And then Black Tourmaline, this is like another classic. Black tourmaline is great for protection. So let's say you're doing Instagram live, Facebook live, and who knows there's going to be on there. Anybody on the Internet can open up your livestream and this is really great for protection. You think of it kind of it looks a little bit like coal. It's very porous and you can think of similar to kind of like smoky quartz, but like even more so to rid any negative, harmful or unwanted energies from your field. This is a great one sometimes. I'll even meditate with this before I start my work day, just to kind of let go of anything that doesn't serve me so I can be fresh, clean and clear to start my workday.
And then we have amethyst. So these are all crystals so far that you're probably familiar with. Amethyst is really great for healing. And so sometimes what I do, whether I'm writing an email, going on a live, maybe I'm interviewing somebody for my podcast or being interviewed, sometimes just holding on to an amethyst for security, for confidence, for helping me to heal many any like traumatized or wounded aspects of myself so I can show up pure and open.
This particular amethyst is a rough kind of uncut one. I do have a very small amethyst crystal that is polished and I love it. It's very powerful. And I always program that crystal before I'm going to conferences or I'm going to speak on stages. I program it to hold my energy, my intention to be clear aligned and balanced, and to be the clearest conduit to provide information that is at the most truthful vibration, and that is helping people raise their consciousness with harm to none.
So I'll program that crystal and help me to hold my container, and I like to slip it underneath my in underneath my boob, like in my bra. Sometimes I'll put it in my pocket, but typically I'll put it in my bra. And the reason why is because it's an easy place for me that I don't touch or fiddle with. When it's in my pocket. I'll probably like touch it and fiddle with it. What I notice when I wear polished crystals with a programmed intention is that I have better energy.
And so for folks who are really highly sensitive, the way that I am being in big crowds or conferences or speaking or just being out, lots of people in general can be sometimes overwhelming for my system, maybe for your system too. Having a crystal that you've programmed to hold your highest intentions and to hold your energetic container clear aligned and balanced is great. And so when you have that on you, it's doing the work for you all the time. You don't have to think about it and be like, Oh God, I got to clear myself again. I'm interacting with that person and it's like, really got negative energy. Your crystal is already doing that for you.
So what I find is that if I weren't using a programmed crystal before those kinds of events, I would feel really tired, maybe lethargic, drained, and just not interested in continuing to do these events. I'd have to like drag myself there the next day. But when I wear a crystal, I feel really good and I feel very balanced. Not like hyperactive, not super low, but like a nice middle. So I would definitely recommend it. Even if you're doing virtual summits or virtual speaking events, having a crystal in your pocket or in your bra or in your lap is a really awesome tool to use. And it's like a little secret weapon.
I also have one that's a Danburite Crystal, and I feel like the Danburite Crystal. I don't have it with me here. I think it's actually my car. I feel like that helps me to access higher realms, spiritual realms, higher levels of intuition and using that crystal. When I'm wearing that, I feel not only am I energetically protected, but I also like extra charged and more intuitive and more in touch and more open. So these different crystals can help in different ways. I believe this is called the pit of light here.
This is a purple crystal and I bought this one at a period of time when I was having a lot of anxiety and stress in my business. Sales weren't coming in the way that I was hoping. I was making huge changes and pivots, and I felt like I needed that, like rock, that security that would help me through that rough time. And I know for folks listening, you know, obviously, you know, your mental health is really important. And so there is lots of different ways that you can treat your mental health crystals is definitely been helpful for me, amongst many other rituals and practices that I do on a daily basis to help with my health, my well-being and all sorts of different things.
So again, I'm going to be sharing you with you a PDF shopping list that's in the downloads. I'll share all these crystals. I'll even show you how to make a crystal grid for a program or a service if you're interested in learning more about crystals. Of course, I have a really fun workshop that you can take. We'll have all that linked in this podcast in the show notes. And next episode is all going to be around using pendulums in your business. So we're going to be talking about pendulums.
We're going to be talking about Oracle cards in these next series and obviously how to come out of your spiritual closet, because a lot of folks who follow me, maybe you have like a couple crystals, but it's like on the DL and like, nobody knows about it. I'm going to share how I've come out of my spiritual closet and maybe some tips for you. And then we'll also be closing on how to brand yourself using your intuition.
So again, this is part of the Spiritual Startup Series. I'm Emily Aarons. If you enjoyed this week's episode, please leave me a five star review over on iTunes. Share this episode with a friend. Leave a comment. Let me know what was your favorite part? Was there any like A-H-A moments? And of course, grab that PDF shopping guide and download over on the website. Thanks again for being here. We'll see you on the next episode.
For More Information About Crystals:
In my Intro To Crystals Course, you'll learn the unique properties of various crystals and how they can enhance your communication, reduce stress, and boost focus and energy in your business. You'll discover how to create crystal grids, program them, and meditate to tap into their energy.
The bonus is you'll also get access to my Journey Into Your Soul workshop on Akashic Records.
Best of all, it's ONLY $22 for both!
About Emily
Emily Aarons is a highly sought-after intuitive healer and business coach for coaches, healers, and leaders. She's best known for clearing the energy to guide her clients out of survival mode and unlocking alignment, abundance, and exponential growth in their business. With over two decades of experience, Emily has honed her healing skills to create the first and only energy-based certification with a profit guarantee; the Integrated Energy Alignment training.
Get connected with Emily…
Love this episode? Tune into the next one!

Please consider subscribing to this podcast and leaving an honest review. Your ratings and reviews really help and I read each one.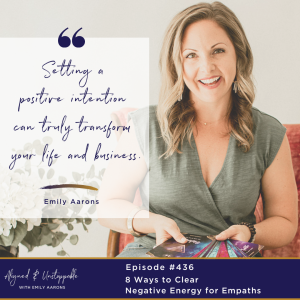 8 Ways to Clear Negative Energy for Empaths 8 Ways to Clear Negative Energy for Empaths 8 Ways to Clear Negative Energy for Empaths It's that time again when I bring you a brand-new episode of the Aligned and Unstoppable podcast. This week, we're delving into a...
What listeners are saying about the podcast…