Intuition Month Recipes by Danielle Walker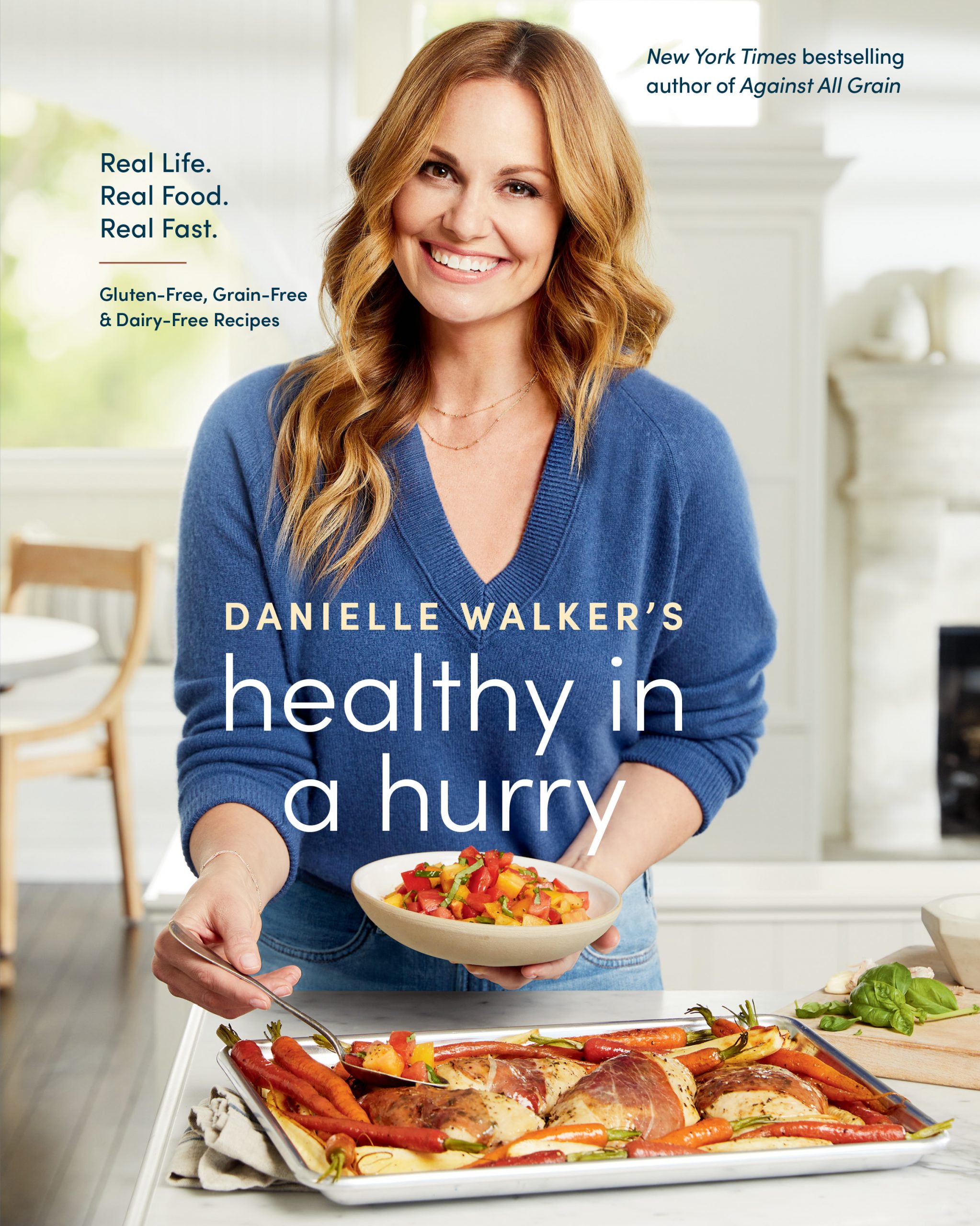 Since so many people participating in Intuition Month have been struggling with eating healthy whole food, I reached out to Danielle Walker since she just came out with a brand new cookbook called "Healthy In A Hurry".
I knew her recipes would be delicious as well as FREE from gluten, dairy, and grains.
Danielle was generous enough to share her recipes with us so I selected two that I selfishly enjoy…
Salsa Chicken Tacos and Teriyaki Salmon.
My entire family loves when we do taco night because we love the flavors as well as the fun part of designing our own taco bowls or wraps. (I'm really into the Siete brand wraps).
Salmon packets are the PERFECT all-in-one meal for the family. My kids love fish and broccoli and that sauce is everything you want in a sweet teriyaki sauce, so this is a quick favorite.
PERMISSIONS & CREDIT INFO:Permission is for nonexclusive use of the requested content and is based on use of the following credit line:
Reprinted from DANIELLE WALKER'S HEALTHY IN A HURRY by Danielle Walker.
Copyright © 2022 by Simple Writing Holdings,LLC. Published by Ten Speed Press, an imprint of Random House, a division of Penguin Random House LLC.Photographs copyright © 2022 by Aubrie Pick.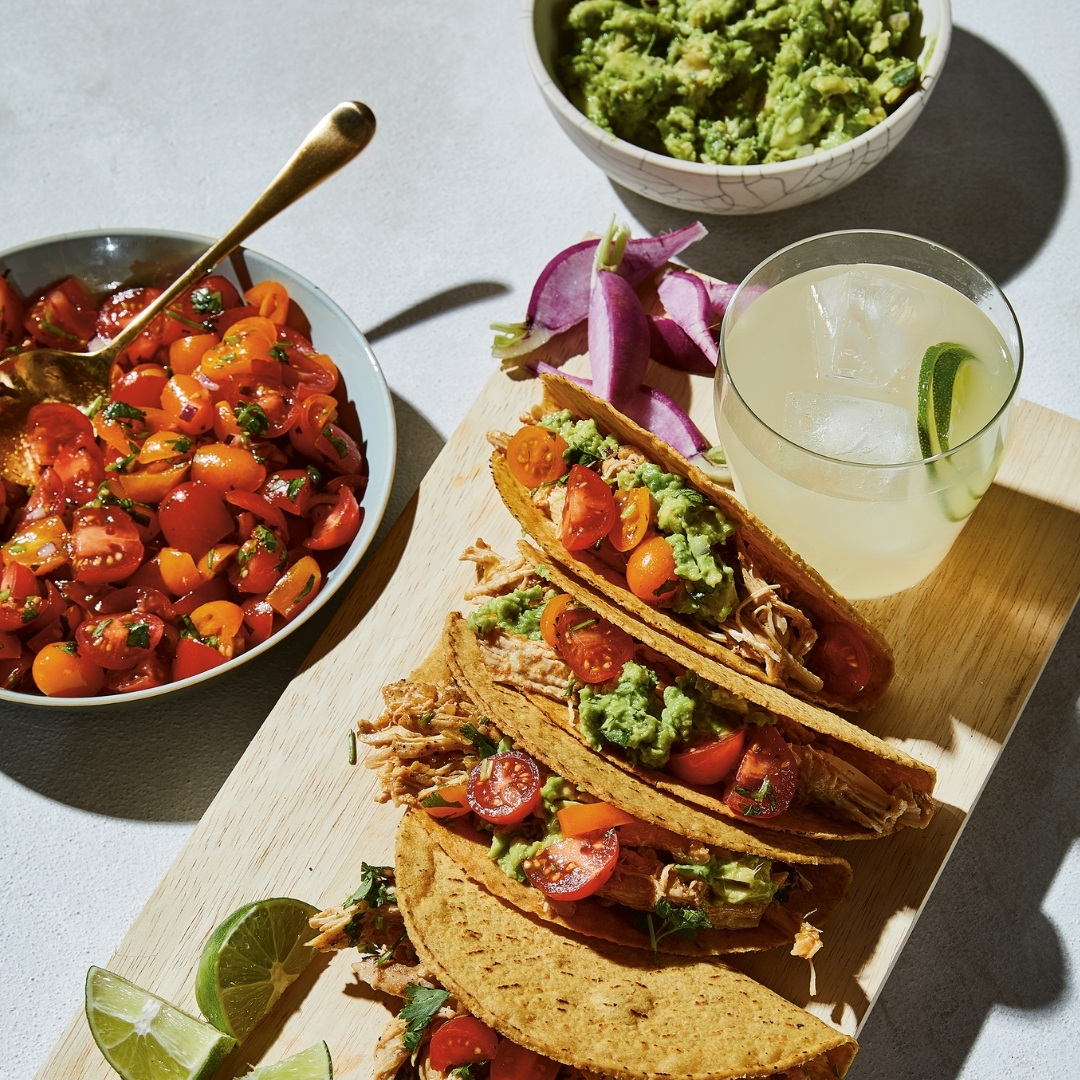 This crazy–easy chicken taco recipe has been one of my family's weekly go–to dinners for years and years. It's a meal I know none of my kids will balk at, and it's my default when I've forgotten to plan and have only frozen chicken ready to go. I can throw it into the electric pressure cooker and have it on the table twenty minutes later. This is also one of those meals that I always double prep. A single portion goes into the slow cooker or pressure cooker for dinner, and the second portion goes straight to the freezer so it's ready for another meal.
SERVES 6 TO 8
Prep Time: 5 minutes
Cook Time: 12 minutes
2 pounds fresh or frozen boneless, skinless chicken thighs, trimmed of fat
1 pound fresh or frozen boneless, skinless chicken breasts
2 cups mild roasted tomatillo salsa, plus more for serving
1⁄4 cup Taco Seasoning (page 35)
1 cup chicken Bone Broth (page 42)
Butter lettuce cups or grain-free tortillas, for serving
Avocado slices, diced tomatoes, diced red onion,
Dairy-Free Sour Cream (page 36), and/or cilantro leaves, for serving
Place the chicken thighs and breasts, salsa, and taco seasoning in a resealable bag or glass container. Seal tightly and refrigerate for up to 3 days or freeze for up to 6 months.
To Use an Electric Pressure Cooker: To cook from frozen, partially defrost the container in a bowl of warm water for 10 minutes. Place the partially frozen ingredients in the pressure cooker with the broth, select the manual button and cook at high pressure for 20 minutes. To cook from thawed, omit the broth and cook for 12 minutes. Allowing the pressure to release naturally while you prepare the rest of dinner will work well here, but you can also release it manually immediately. Remove the chicken from the pot and use two forks to shred it. Return the shredded chicken to the pot and serve with the lettuce leaves, salsa, and toppings of your choice.
To Use a Slow Cooker: Defrost completely, then place the ingredients in the slow cooker. Omit the broth. Cover and cook on low for 6 hours or on high for 3 hours. Remove the chicken from the pot and use two forks to shred it. Return the shredded chicken to the pot and serve with the lettuce leaves, salsa, and toppings of your choice.
Tidbits: My all-time favorite trick for shredding chicken quickly is to use a handheld electric mixer on low speed. It shreds the chicken perfectly in no time at all! Just cover your hand and the mixer loosely with a towel to avoid splatters.
Taco Seasoning
MAKES ABOUT 2 CUPS – W30, EF, NF, V, SCD
1⁄2 cup plus 2 tablespoons chili powder
1⁄3 cup fine sea salt
1⁄3 cup ground cumin
1⁄4 cup dried oregano
21⁄2 tablespoons onion powder
21⁄2 tablespoons ground coriander
21⁄2 tablespoons sweet paprika
1 to 3 teaspoons cayenne pepper (see Note)
1 teaspoon freshly ground black pepper
In a bowl, stir together all of the ingredients, mixing well. Store in an airtight container in the pantry for up to 6 months.
Note: Use up to 3 teaspoons cayenne if you want this to be spicy.
Buy It: Daniellewalker.com/spices
Use It: Chicken Tortilla Soup (page 94), Salsa Chicken Tacos (page 98), and "Skillet" Queso Dip (page 226)
Bone Broth
MAKES 8 TO 10 CUPS – W30, EF, NF, SCD
Prep Time: 8 minutes
Cook Time: 80 minutes
4 pounds roasted or raw chicken, beef,or turkey bones, or a mixture (see Tidbits)
2 tablespoons extra-virgin olive oil, if roasting the bones
4 carrots, halved crosswise
2 celery stalks (with leaves), halved crosswise
1 large yellow onion, quartered
1 bunch flat-leaf parsley
4 cloves garlic, crushed
1 tablespoon apple cider vinegar
8 to 10 cups filtered water
If the bones are cooked, put them into an electric pressure cooker or a slow cooker. If the bones are raw, preheat the oven to 400°F. Spread the bones on a large sheet pan, drizzle with the oil, and roast for 20 minutes, until browned. Transfer the bones and any juices to the pressure cooker or slow cooker.
Add the carrots, celery, onion, parsley, garlic, and vinegar to the pot, then add just enough filtered water to barely cover the bones and vegetables. If using a pressure cooker, secure the lid, select the manual setting, and cook on high pressure for 80 minutes. Let the pressure release naturally, which will take about 1 hour. If using a slow cooker, cover and cook on low for 24 hours.
Uncover the pot and skim off the fat from the surface of the broth. Strain the broth through a fine-mesh sieve, discarding the bones and other solids, and let cool to room temperature. Store in an airtight container in the refrigerator for up to 1 week; or freeze in silicone muffin molds, then unmold and store in a resealable bag in the freezer for up to 6 months. To reheat from frozen, place in a saucepan over medium-low heat for about 15 minutes, until heated through.
Tidbits: There are so many good broth brands on the market that contain clean ingredients and have the desired gelatinous quality that comes from slow simmering, but making broth at home is less costly and you can tailor it to your dietary needs. The key to getting a good gel to your broth is to not fill the pot with too much water; add just enough to cover the bones. I use filtered water to avoid the chemicals and metals often present in tap water.
I prefer the flavor of the broth when it is made with roasted bones, but you can skip that step and use raw bones. For beef stock, use a mix of bones with a little meat on them, such as oxtail, short ribs, and/or knucklebones. For poultry, use a mix of backs, legs, and feet. Also see Pressure Cooker Chicken (page 41). If you're sensitive to garlic and/or onion, leave them out. I make my broth unsalted and then salt to taste with each dish I use it in or add a pinch of salt when drinking it from a mug.
Buy It: Butcher's by Roli Roti, Bonafide Provisions, and Bare Bones; or look for a low-or no-sodium broth
Use It: Soups, stews, sauces, and any recipe that calls
for chicken broth or chicken stock!
SERVES 4 TO 6
Prep Time: 15 minutes
Cook Time: 18 minutes
Poaching salmon in parchment paper packets is a wonderful way to cook the fish and vegetables at the same time without drying out or overcooking either one. Other firm fish, such as ahi (yellowfin tuna), would work here, too. These teriyaki-flavored fish packets are stuffed full of vegetables that soak up the sweet and salty sesame sauce. My kids love to fill their own packets with their favorite vegetables.
3 medium carrots, peeled and thinly sliced
2 cups broccoli florets
1 cup snow peas, trimmed
1 red bell pepper, seeded and thinly sliced
8 shiitake mushrooms, sliced and stems trimmed
3 tablespoons avocado oil
3 tablespoons toasted sesame oil
¾ teaspoon fine sea salt
¼ teaspoon freshly ground black pepper
½ cup Stir-Fry Sauce (see below)
2 tablespoons honey
¾ teaspoon ground ginger
¾ teaspoon garlic powder
6 (6-ounce) pieces skinless salmon fillet
Sliced green onions, white and tender green parts, and black sesame seeds, for garnish
Preheat the oven to 350°F. Cut six large pieces parchment paper (each about 18 by 13 inches).
In a bowl, toss together the carrots, broccoli, snow peas, bell pepper, mushrooms, avocado oil, sesame oil, salt, and pepper.
In a small bowl, whisk together the stir-fry sauce, honey, ginger, and garlic powder to make a teriyaki sauce.
Fold each piece of parchment paper in half crosswise to create a crease, then unfold to lie flat. Divide the vegetables evenly among the parchment pieces, piling them high on one half of each piece, positioning them just beyond the crease line and leaving a 2-inch border around the edges. Lay a piece of salmon on top of each vegetable portion and then drizzle the teriyaki sauce on the salmon, dividing it evenly among the packets.
Fold the uncovered half of each parchment packet over the salmon, then, beginning at one end of the open edges, fold over the edges, making small, tight pleats as you go. Continue to fold and pleat until you reach the opposite open end and the packet is a half-moon shape. Check your folds to make sure the packet is well sealed so no steam will escape. Place the sealed packets in a single layer on a large sheet pan. If necessary, divide the packets between two pans.
Bake for 18 to 20 minutes, until the fish feels semifirm to the touch through the paper and the paper is browned.
Open the packets, sprinkle the salmon with the green onions and sesame seeds, and serve immediately.
Tidbits: While there's a handful of great recipes in this book that use up the Stir-Fry Sauce, it's also become my favorite condiment for an easy lunch of a leftover protein with cauliflower rice! Salmon and roast chicken are my favorite.
Make It Ahead: Fill and seal the packets and place them on a sheet pan in the refrigerator for up to 24 hours. Remove the pan from the fridge and let the packets sit at room temperature for 30 minutes before baking.
Stir-Fry Sauce
MAKES 2 ½ CUPS
Prep Time: 5 minutes
2 cups coconut aminos
2 tablespoons plus 2 teaspoons fish sauce
2 tablespoons plus 2 teaspoons toasted sesame oil
1 tablespoon unseasoned rice vinegar, or 1½ teaspoons apple cider vinegar
1½ teaspoons fine sea salt
1 teaspoon white pepper
In a large jar, combine the coconut aminos, fish sauce, sesame oil, vinegar, salt, and pepper. Cap tightly and shake vigorously to mix well. Store in the refrigerator for up to 3 months.
Buy It: Big Tree Farms Teriyaki or Primal Kitchen No Soy Teriyaki; both brands are sweeter and have more of a teriyaki sauce flavor than a stir-fry sauce flavor, but they will work with all of the recipes.
About Emily
Emily Aarons is a business alignment coach who helps entrepreneurs use their intuition to grow their businesses.
Get connected with Emily…
? For LIVE and on-demand energy healings that clear your blocks and align you to more abundance join the Mastery & Ascension Waitlist today!