Intuition Month Challenge Part 1
I know my listeners, and those of you in my communities, love to talk about intuition. But it hit me that there's something better than talking about intuition – it's creating a community for you to experience it in a way that helps you open up your intuition more.
And when we do this work together, it raises the frequency of the collective! How great is that?
Some of you have been with me through an intuition week and some of you are new to me. It will be new for you either way because you'll have a whole month to create a deeper relationship with your intuition and I can't wait for you to experience it.
I explain more about what you can expect with this upcoming Intuition Month in this week's episode.
Highlights you won't want to miss:
[2.08] Why intuition is so important in your business!
[4.27] How the idea for "Intuition Month" came to me.
[6.26] If your launch drains you, it's time to tune in and see what works better for you.
[7.06] Building a bedrock of success so you can increase your intuition.
[8.46] The foundation that opens up your intuition.
[10.35] When we do this work together at the same time it raises the frequency of the collective.
[12.01] This is not hard, it's about holding space to do our best.
"Click
Hey everybody, welcome back to the Aligned and Unstoppable Podcast. I am so excited about this week's podcast to share with you because I know that a lot of you folks are here with me, whether you're in my community listening as a podcast listener or just following me on social media.
But what I know to be true is that you love to talk about intuition, and that's what this episode is all about. So there are, some fundamental things that I have really discovered recently through multiple group coaching programs, through lots of private sessions, and certainly through the Master and Ascension Community, which is that you're here to learn about intuition. And as I teach, the more and more I teach, I feel like a broken record sometimes because there is sort of this bedrock, this foundation that I am constantly reiterating. And it kind of came to a head recently where I, I thought, you know what?
Why keep talking about it when you can do something even more exciting, perhaps more fun and possibly really engaging, that can help shift a number of people, their consciousness from one level to a heightened state so that they can get more intuition. And so what I'm talking about is an experience.
A lot of you have experienced Intuition Week with me and back in I think it was in June, I had a bodywork session and during the bodywork session, spirit gave me this beautiful plan and the plan was to raise the level of consciousness for the larger community and to have a quantum shift of success. So, you guys know, I talk all the time, which is that my intuition is what leads to my success. It's that I have clarity. It's that I can connect with my higher self. It's that I can receive intuitive messages and trust them and act on them. And then they lead to my success, attracting soulmate clients, raising my rates, bringing in higher price points, attracting speaking opportunities and coaching opportunities, and just endless expansion.
And I know this to be true for myself because I've had quantum success over the years where it's not that I have this minutia like 5% increase I have – when I first 10xd my business when I first started using this work, and then I doubled and tripled and have quadrupled ever since. So it has been the bedrock of my success. It's also stuff that I teach and coach about endlessly, and what I'm talking about is creating habits for intuition. Now I'm going to pause there and kind of rewind a little bit.
So I did an episode last season, episode number 326, just after I completed a, I don't know, mental challenge, physical challenge, which was 75 hard. And that challenge, which you may be familiar with, if not essentially there's like half a dozen things or so that you do every single day consistently including drinking a gallon of water and 45-minute workouts. And one of them has to be outside. And you take a selfie every hour, a picture of yourself every day you read a book and you abstain from alcohol and you stick to a diet. Some might think, oh, this is like a diet. It's like a health challenge. And truly, while I did lose weight, the actual real challenge was sticking to it every day. Because the thing about the whole 75 hard is that you actually have to start over from the beginning if you fail on one of those tasks.
And so for me, I was like, listen, I just did the whole 30. I could do another 30-day challenge but 75 is a little bit bonkers. But what I found surprising is that since I had already been in the habit of 30 days of living a certain lifestyle, it was just a little bit more for me. And what I also found to be interesting is that initially, I thought my 45-minute workouts had to be these like crazy strenuous things, but what I end up doing is modifying so that one of my workouts was gentle yoga or stretching or a walk, and it wasn't like this intensive, like, weight training situation. And it actually worked really well. And I found my body really craving those things even beyond that challenge.
And I think that's what really planted the seed for what I'm about to share. Because ultimately we need sometimes that like kick in the pants, that little bit of a reset. We, know what we should be doing. But we don't always do it. And I want to talk about this a little bit more next week, about habits. About the healthy habits that we want and the unhealthy habits that we have.
So kind of like the difference between your conscious habits and your unconscious habits. We'll talk about that on the next podcast.
But for the sake of this, I want to talk about, you know, creating these new habits, these new routines because you get that little bit of a push. So specifically what I'm referring to is I've loved and I mean, love, love, love. I did a five times Intuition Week. I have loved doing Intuition Week five times with you. Last September, I retired. It was the last time I've done it and I stopped doing it because it was a labor of love. I loved, loved, loved doing it, but holding the space leading up to it, the Facebook group, the engagement, usually after that launch was over, I was exhausted. And specifically, that last September really did a number on me energetically. It was like weeks before I started to feel back like myself again.
And so I realized for a while that it wasn't a sustainable method of launching for me, even though it was highly successful. It was a lot for my system. And so I really took a break from that.
I stopped my group programs at the end of the last year of 2021, and I've really been fully focused and committed to serving Mastery & Ascension, dialing that in, serving one on one clients, and really just optimizing and doing an amazing, excellent job of what I already have. And I have felt so excellent doing that.
And it sort of like makes sense that spirit dropped this idea in June to say, you're going to do this in September. So, here's what we're going to do – in September I'm going to hold space for you again. And get excited because I'm excited. Initially, I knew it was 30 days of a challenge and it was all about building the bedrock of success. So that you can become more intuitive and you can opt-in, I'll have the link in the podcast show notes.
But essentially, in a nutshell, I'm going to lead you and hold space for 30 days as we challenge ourselves to unlock our intuition to the next level. And some of the things that are on this challenge you might already do, that's nothing like totally out there and crazy. But what these simple five things are that I'm asking you to do is to help you open up to your higher self.
And if you're like, I'm already doing all of those things, I am, what else? Well, we have an ascension plan as well. So, if you're already doing these five things and you want to take it to a higher level, we have an opportunity to do that. So it's a little bit more of an intensive challenge for you during these 30 days.
But what I've also realized is that I want it to be more about you. I want to be more about the community and about helping more people, because ultimately at the root of it, it's around raising the consciousness level of our whole community.
And if we rise up, then other people rise up too. And it's my belief that you can feel your best and then you can do better in the world. So feel better, do better. And part of opening up your intuition is doing these repetitive habits on a regular, consistent basis, and sometimes we just need that little push to do it just a little bit more.
And as we open up over the period of this month in September, I'm also going to be leading some live sessions on Instagram. So if you're not already following me, go ahead and follow me at @emilyaarons on Instagram and I'll be doing some live sessions every single Friday all month long in September. This challenge is going to be free, Intuition Month will be free to everybody. You know, we did Intuition Week and that was an $11. Intuition Month will be completely free. It's the first time I've ever done it and there will be an opportunity.
If you want to go into the deeper level of the ascension plan, you can do that. In the ascension plan, you'll get 30 days of access to my reboot meditation, you'll get 30 journal prompts so if you want to add some extra fun challenges to your already fun challenge, you can do that. And you'll also get discounts for my physical products Oracle Cards in the Journal.
Not only that, but again, you'll have a more in-depth opportunity. So instead of just doing the simple five things that I'm offering to the mass, the masses, you'll have the opportunity to go even deeper with me. That'll be really fun.
And the Mastery & Ascension Community Facebook Group is really where the parties going to be. You know, if you're already an M&A member, that's where we'll be having some more conversations about it. If you're not an M&A member, there will be a chance to join at the end of the month.
And I really do hope you see this as beneficial to you your health, your well-being, your intuition, and ultimately which leads you to business success. Because it's worked for me and it's worked for thousands of my clients as well. And I know it can be really helpful to really get that giddy up behind you. And we all know that when we do the same work together at the same time, it raises the frequency of the collective.
So if nothing else, I know it's going to be really great. And I actually pulled a card for us. I got the card piece from the Quantum Oracle Deck. And at the end of this message, it says there's an inner strength that comes from such activities, such as meditation and deep breathing. If you add healthy nutrition, regular exercise, and plenty of water to that regimen, you will receive a personal balance that will then spread in every direction. The clarity that comes from peace of mind projects a vibrant light in the universe and brings joyous harmony to all arenas of your life.
Is that not the most perfect message that goes with this?
So again, the link will be in the show notes for Intuition Month. Most likely it will be emilyaarons.com/intuitionmonth. I'm still building it out right now with my team, but we are so excited to hold space for you during the month of September. I hope you join us and please spread the word. I would love, love, love to have teams. So if you want to invite some friends, have them join you. Nothing is better than doing these challenges with a friend. All right, you guys have a great, great day.
And I want to share, too, one last thing I should say. The thing that's very different about this challenge versus something like 75 hard is that every Saturday we are going to participate in the 4RS, which is rest, reflect, relax and reboot. And so every Saturday, if you missed a day or you messed up a little bit, it's a fresh start. And so this is not 75 hard. This is Intuition Month.
And so our focus isn't around blaming and shaming and doing things right or wrong. It's around holding space to do our best. Every Saturday we do get to reset ourselves. I hope that you can join me and I'm so excited to do this work again.
Next podcast, we're going to be talking about the conscious and unconscious habits that we get into and really ultimately how we can make some shifts to get into a healthier and more helpful lifestyle.
All right. We'll see you guys next month. Thank you so much for being here.
Action Steps To Align Your Biz:
Join Intuition Month! Let me share with you the practices and tools that will help you connect to your intuition. You'll be part of a large community which makes it so much more powerful.
About Emily
Emily Aarons is a business alignment coach who helps entrepreneurs use their intuition to grow their businesses.
Get connected with Emily…
? For LIVE and on-demand energy healings that clear your blocks and align you to more abundance join the Mastery & Ascension Waitlist today!
Love this episode? Tune into the next one!

Please consider subscribing to this podcast and leaving an honest review. Your ratings and reviews really help and I read each one.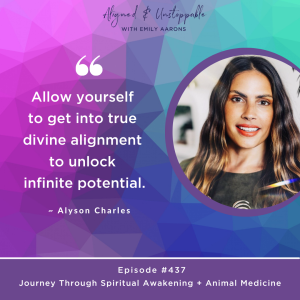 Journey Through Spiritual Awakening + Animal Medicine with Alyson CharlesJoin us in an intimate conversation with the riveting Alyson Charles, celebrated shaman and healer, whose Ceremony Circle podcast is making waves worldwide. Ever wondered how the potent energy of...