The Business & Soul Alignment Experience
with Emily Aarons
Join this FREE live interactive quiz + workshop Feb 28 at 10am ET and discover:
The #1 reason you're not where you want to be in your business (and your life)
Why understanding your energy system is a MUST for you NOW (especially if you're trying to make a bigger impact)
Where in your life you are most aligned through an in-depth personal quiz
How being fully aligned will catapult your business
Join this FREE Workshop
and Align Your Energy
Are you ready to make unrelenting stress a thing of the past and get into alignment? Join Emily in a shared sacred space online for 90 minutes, where you'll:
?
Identify where you're holding on to stress and what it means
✍️
Take a Personal Energy Quiz to learn about the 5 Elements of Alignment and discover where you're blocked and aligned
?
Gain energetic tools and strategies to help you feel less stressed and anxious
?
Receive a customized solution to get your business and energy into alignment
?
PLUS, when you show up live, you'll get up to $222 in bonuses to help you make quantum leaps in your business
✨ Save your spot today! ✨
To participate, simply click the sign up button, fill out the form, and join the live interactive quiz + workshop on February 28, 2023 at 10am ET.
? FYI! After you sign up we'll email instructions on how to join the online workshop.
Recording available to all registrants.

"Understanding alignment in this way is such an integral part of my business, my life, and who I am. If it weren't for Emily's work this version of me probably wouldn't exist."

"I can't say enough about working with Emily. Emotionally, financially, and spiritually. It's the best decision I've ever made!"

"Being in Emily's energy is transformational on so many levels. She taught me how to trust my intuition & align my soul purpose with my business - it's been truly invaluable."

"When I started working with Emily, I was full of doubt, fearful, and financially not in a good place...Getting aligned wasn't easy but I did it and you can do it too!"

"The Business & Soul Alignment Experience was amazing. It helped me recenter and focus on the issues holding back my business. I'm blessed that I stayed for the entire thing because the gifted meditation opened me up to what I need to focus on AND what I get to do to get there. As always Emily, you rock and more entrepreneurs need your energy in their world. ?"

"I just love your energy Emily. It is contagious and makes me want to keep on my path to a more aligned life and increase abundance. From the badass bundle and the couple podcasts I have listened too I truly feel I have brought more soulmate clients (love this term) into my practice. OH and drinking more water with the thought that Hydrated people make more money."

"I absolutely loved this experience. I felt it was exactly what I needed to get me back in alignment and on my path!"

"Understanding where I'm holding blocks was eye opening. And the way it was broken down through the Elements assessment makes it easier to to dig into each area myself and work them out."

"It was something I never experienced before and this B&S A Experience Is truly worth setting aside personal time for. It's an excellent session everyone, no matter of one's spiritual and meditation level, should experience this session. Clearing and moving blocked energy is truly transcending."

"The Business & Soul Alignment Program was absolutely amazing. The program talked a little about everything covered a lot. Showed my how to align my Chakras along with opened my mind."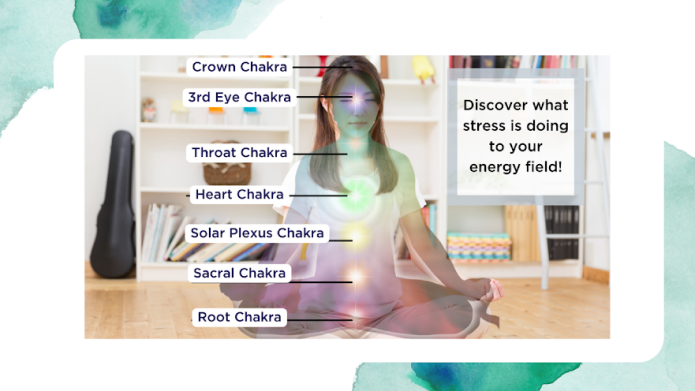 Discover Where You're Blocked
in Your Energy Field
During the workshop, you'll learn about the 7 main chakras and take a Personalized Energy Quiz to discover where you are blocked in your energy field. You'll then receive a score and a customized solution to get your business and energy into alignment!
Discover how to show up
Aligned & Unstoppable in Your Business
During The Business & Soul Alignment Experience you'll learn how to connect with your higher self to get aligned and catapult your business. After this workshop, you'll be on track to:
Attract your soulmate clients and more financial abundance
Show up confidently in your business – ready to make a big impact by shining your light and sharing your gifts with the world!
Feel inspired and full of energy
Discover the #1 reason you're not where you want to be in your business (and your life)
Discover how to show up
Aligned & Unstoppable in Your Business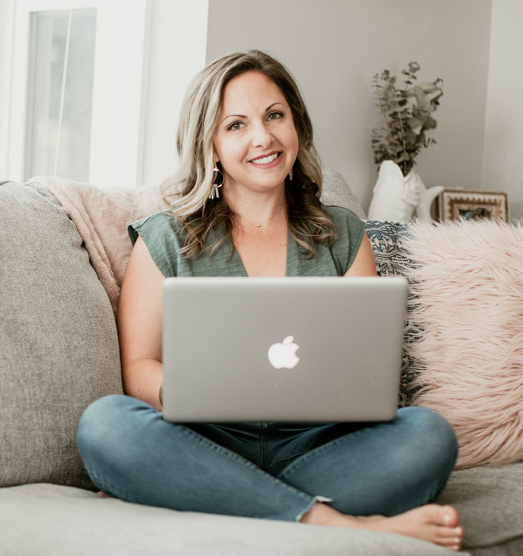 About Emily Aarons
Most business coaches are clueless about how stress is hindering your growth. I would know! Years ago, I was struggling to reach 6-figures in my business. I was always searching for that ONE missing piece that would somehow make my business "click". It wasn't until I turned my attention inward that everything changed.
Hi, I'm Emily. As a highly sought-after intuitive healer and entrepreneur, I understand the importance of business and soul alignment. I'm hosting this LIVE interactive experience to help fellow entrepreneurs rapidly reduce stress, release anxiety, and reignite their highest potential.
Very few coaches understand how to ALIGN their clients' energy, but that's where my work is UNIQUE and so TRANSFORMATIVE.
Read More About Emily
I too was once a victim to stress, anxiety, and depression. It took me finally hitting rock bottom and asking my guides for help when my life and business completely turned around.
I'd been a "broke healer" for over a decade when I finally stopped hiding my natural intuitive gifts away, I came out of my spiritual closet and within a year 10X'd my business and went on to build a 7 figure business from a place of ease and flow, rather than pushing and burnout.
What I've come to realize is your personal energy alignment is what makes the biggest difference in your business and finances! Once you're aligned you can truly tap into unlimited amounts of joy, freedom, expression, love and abundance.
Read Less
Sign up for my FREE Online Workshop Now!
Privacy Policy: We hate spam and promise to keep your email address safe.