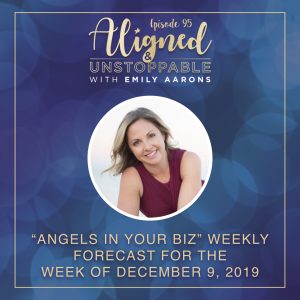 This week's pivotal point is balance and self-care!
DECEMBER 9 FORECAST:
2. Breakthrough: Keep on going!
​You're right there! Keep on going! You're on the verge of a huge breakthrough! Embody the best you possible…aka your highest self. What does a successful person act like? Now, close your eyes and embody their behavior, attitude, and demeanor. Then shift your actions to DO the things your highest self would do. Play the part today, not some day. Who are you not to? What you want also wants you. Ask yourself: "How much money/success/love can I tolerate?"
​1. Balance: Look at the blessings in your life
Take a moment to look around at all of the blessings in your life. Some days it may feel like "too much" to take but what if that were just a story you told yourself so you could take a break? There are always sacrifices that must be made for the sake of success. Make space in your schedule for play, love, friendships, silence, and adventure. Work will always be there, but it's time to fill your cup too.
30. Leap of faith: Feed your fear or your faith
Do you feel like you don't have the confidence for something right now? Guess what? That's not a good enough excuse to stop. There are people who need you and maybe you don't have the "perfect plan" but even if you did, something would shift and change. You're adaptable and smart. You CAN do this! You've figured out harder things and you're ready for a big shift. Are you gonna just stand there with your toes on the edge too worried to move, or are you going to take a running leap trusting that you'll soar with your angels all around you? The choice is yours. Feed your fear or feed your faith. It's up to you!
> > THANKS FOR LISTENING! GET MY FREE ABUNDANCE MEDITATION HERE!
Ready to dive deeper? Join the Mastery & Ascension membership to learn the spiritual tools to break through your blocks, align with your highest self, and gain clarity to become FULLY Aligned & Unstoppable! Simply CLICK HERE to join!