Episode 160
Today's episode is part 2 of a series of episodes that I am recording to document my launch experience. In this episode, I am lifting up the curtain and sharing my experience of a launch free-fall: From breakdown to breakthrough.
You will literally listen to me in real-time, sharing the real launch breakdown and recovery. I will share with you, the details of the breakdown and what I did to overcome the challenges.
So this week's episode is definitely something I've never done before. I've never shared like a real-time documentary-style podcast. If you have launched a product or a service offered before or are thinking about launching, I am sure you will benefit by hearing about my experience of a launch free-fall: From breakdown to breakthrough.
We are now taking applications for BMS Mastermind. BMS opens on July 1st, 2020. We have limited spots available. Grab your spot HERE!
Highlights you won't want to miss:
What a real launch breakdown and recovery looks like.
What is a launch free-fall?
How to handle money mindset objections.
How to use your stats to learn about what works and what doesn't.
What my real stats looked like in this launch.
What were a few things that backfired during this launch.
What to do when you physically don't feel well during a launch.
How to identify to find the missing link between your offering and what your ideal client really needs.
How to back into alignment if you feel you experience a launch breakdown.
How to detach from your launch results and expectations.
Why in business, you need to focus on the numbers as much as on your energy.
Shareable Quotes:
"When you're a leader, you have to hold boundaries very strongly because other people will take the liberty to do whatever they want if you don't have a strong container." – Emily Aarons
"The one thing that you can do and it's so easy to create certainty, literally you are the creator of certainty." – Emily Aarons
"Simply put, in alignment I feel good and out of alignment, I feel bad." – Emily Aarons
"In business, we have to focus on the numbers as much as the energy. And if you're not focusing on both, you're missing a huge, huge, huge area and your business." – Emily Aarons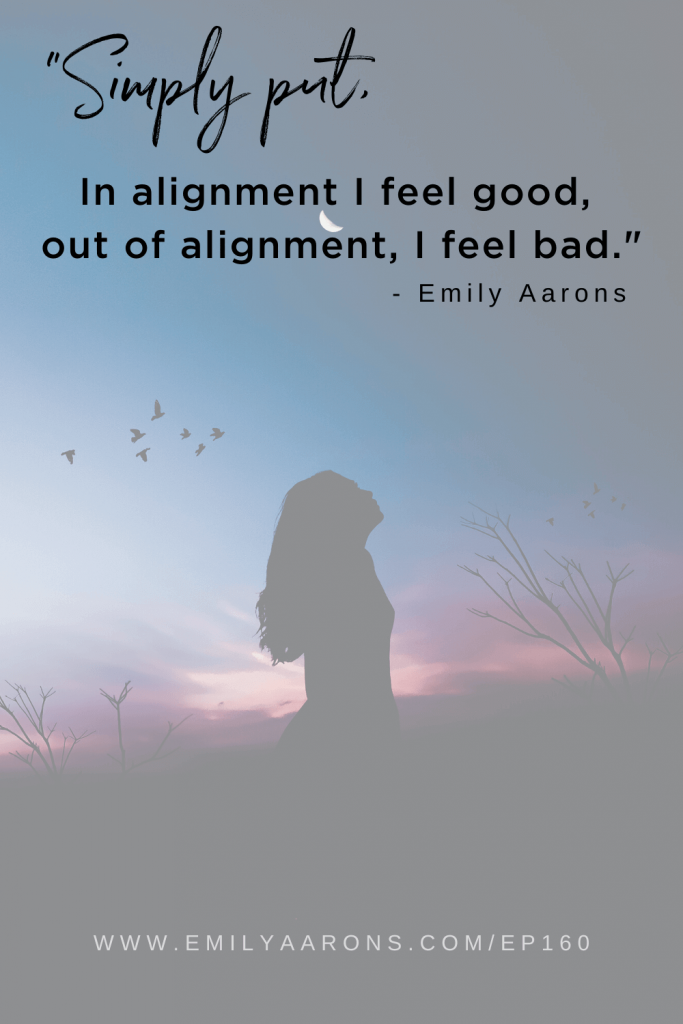 Resources to Take You Deeper:
> > THANKS FOR LISTENING! GET MY FREE ABUNDANCE MEDITATION HERE!
Ready to dive deeper? Join the Mastery & Ascension membership to learn the spiritual tools to break through your blocks, align with your highest self, and gain clarity to become FULLY Aligned & Unstoppable! Simply CLICK HERE to join!