2022 Annual Astrology Forecast with Kim Woods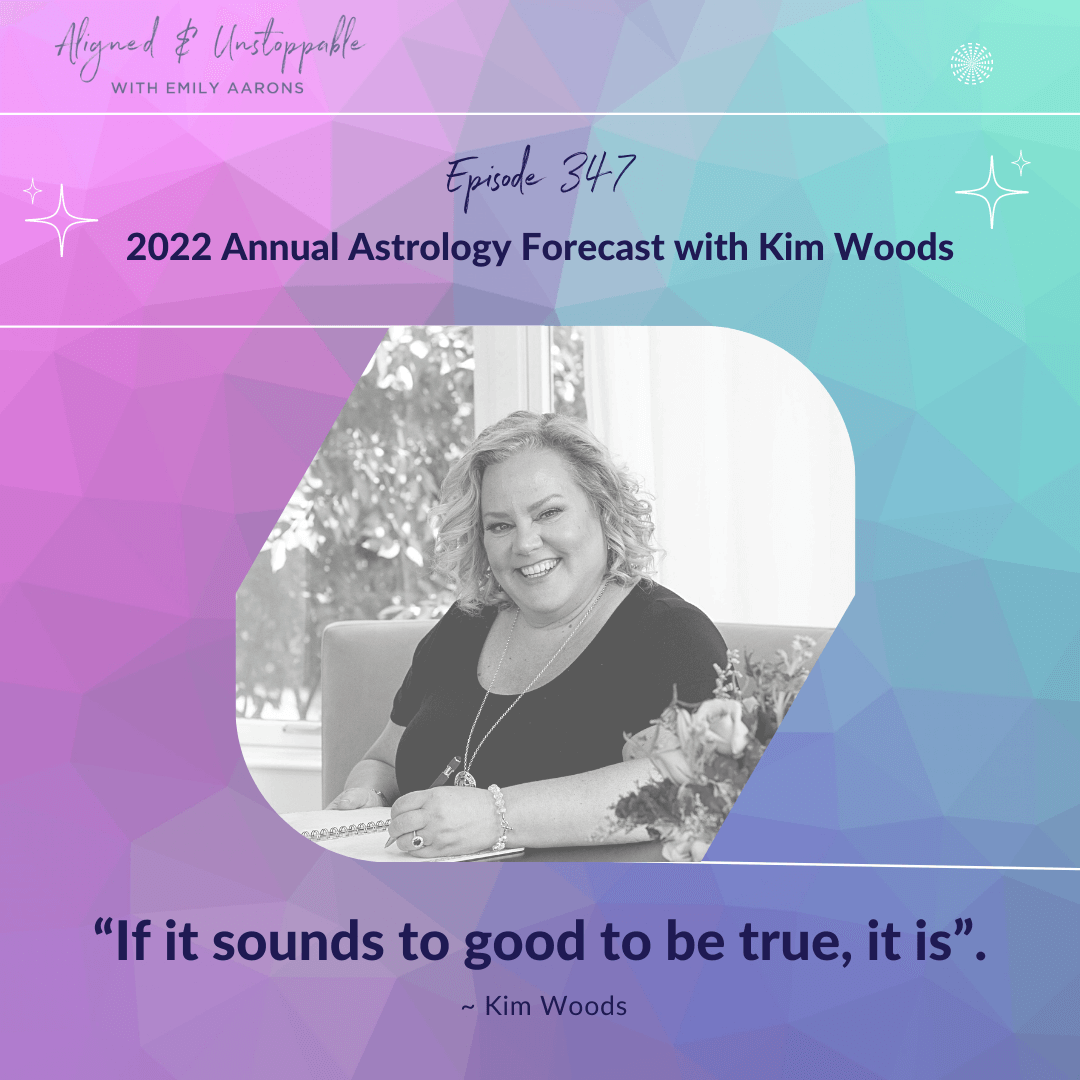 If you haven't listened to my annual astrology forecast with Kim Woods, you're in for a treat. You'll want to take notes and have your journal ready because Kim is here to walk you through, your whole year ahead!
She shares which months have the best energy for launches, which months you'll want to slow down, which ones to amp up your efforts, and even shares a "theme" for the year… all based on the stars.
Not to mention, which crystals will support this year's energy and which animals you can call on to help you.
Her annual forecasts have become so well-loved and well-known they've been shared by more than 490 media outlets.
Kim and I always have a great time as we look at the year ahead and you can also come back to this podcast and listen again as the year progresses
Highlights you won't want to miss:
[3.57] Background for Kim and this 5th annual forecast.
[7.37] The word of the year and how you can apply it to your life.
[8.35] How to stay in alignment with the truth of "you" and what you value (stay in the eye of the storm!)
[12.05] A month-by-month look ahead for 2022.
[20.24] When is the best time to launch? Kim dishes about it.
[25.56] Starting in May, don't succumb to this. What to do instead
[35.00] Crystals and animal energy to support you in 2022.
[42.35] This year will be a little "swirly" but this is a year to do a deeper pause internally.
Resources to take you deeper:
Action Steps To Align Your Biz:
Try the 2022 Ritual with Kim Woods! Set yourself up for the year ahead (also if you are listening later in the year too). It is a support tool any time that you happen across this or need a little extra something. You can find it here: 2022 Ritual with Kim Woods.
About Kim
Kim Woods,The Intuitive Business Strategist, helps business leaders shed the expectations of others to live their true life purpose. She combines her powerful intuitive gifts with 30+ years of business experience through her revolutionary Do You Know, Like and Trust ™ Process, that literally turns the traditional KLT factor inside out, so instead of customers needing to know, like, and trust you, YOU know, like and trust yourself.
Love this episode? Tune into the next one!

Please consider subscribing to this podcast and leaving an honest review. Your ratings and reviews really help and I read each one.