Angels in Your Biz Weekly Forecast January 10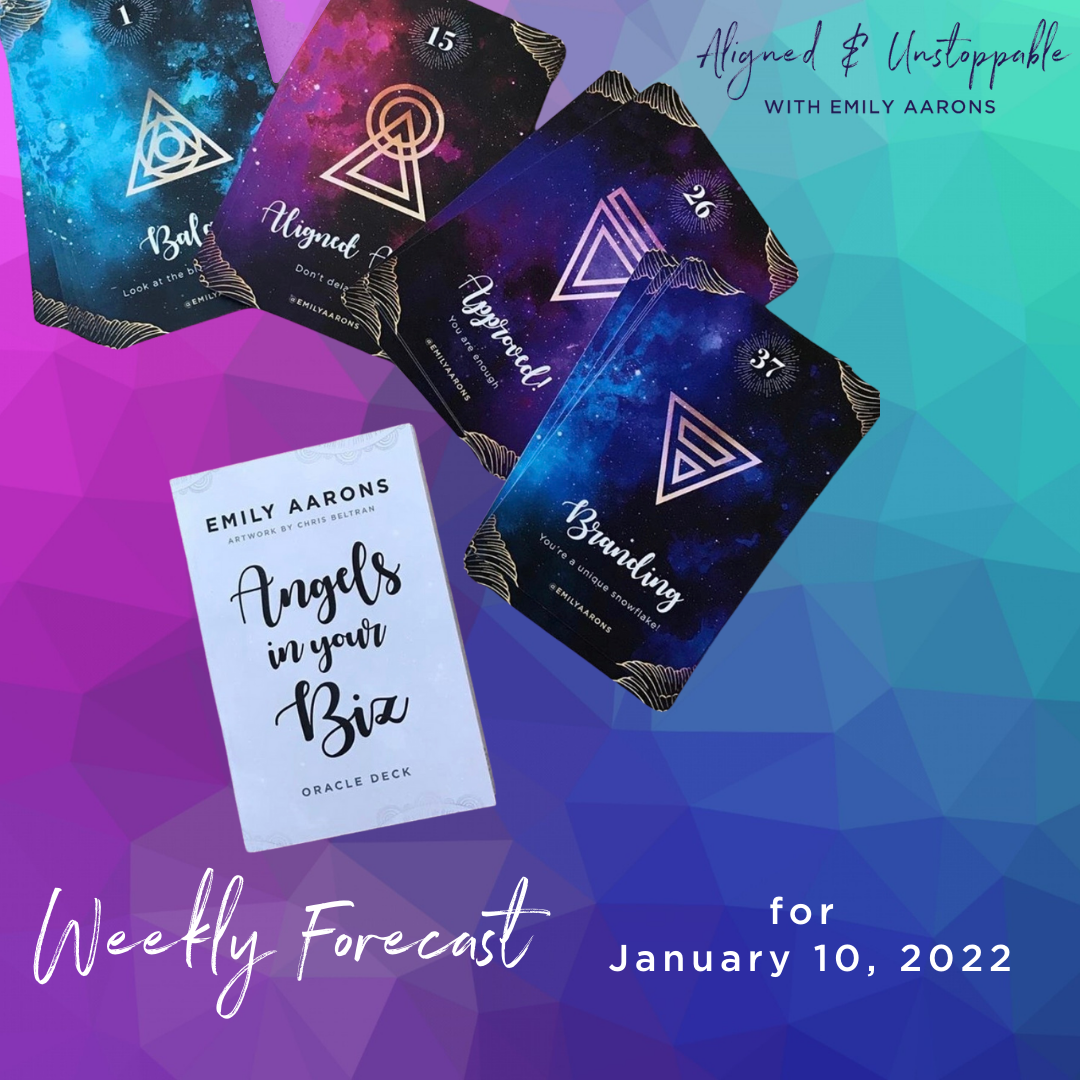 Episode 346
Happy January 10th!
You got this! Your angels are cheering you on as you begin to put a new idea into motion! Don't doubt yourself!
January 10 Energy Forecast:
15. Aligned Action: Don't delay, act
Has fear been tripping you up lately? Worried about your next steps? It's time to get out of your head and into your heart. You, my dear, are energy and so is everything around you. If you choose to disconnect from that flow all around you and within you, you're cutting yourself off from the flow. God/the Universe is sending you messages and signs every single day, and if you keep trying to make sense of them, you're missing the whole point.
The messages are coming to YOU, not someone else, and if you continue to ignore them or overthink them to death, the universe will simply stop sending them. Get that intuitive hit or nudge and TAKE ACTION! Do something with it, for goodness sake!
Your angels are trying to be direct with you. You're not a victim, you're a powerhouse, so start taking action like one!
​
​
43. Soulmate Client: Your dream clients are in your heart
Heed the call, my love. Your soulmate client is here and is desperate to connect with you. Close your eyes and feel gratitude in your heart. Allow that energy to expand and connect to your one soulmate client; the one who loves working with you and paying for your services, and you love them too. This is the perfect time to listen to the whispers and the little hints that you sense.
If you're having writer's block, you're not connecting. Imagine there's someone out there praying just for you and your services/offers…they're actually desperate to find you, their life depends on getting your help. Not the help from someone "like you" but actually you; please stop denying them of your gifts. Ask any of these questions right now: "What would you like to hear from me? How can I best serve you right now? Why do you need me and this offer today? What do I need to do so you can find me?" Now TRUST in the messages and take action!
​
​
32. Order: It's all coming together.
You're doing exactly what you should be doing and everything is working exactly as planned. If you have any tiny bits of doubt, please release them to your angels now. You're fully in alignment and things are moving easily and effortlessly, don't question it, just enjoy! All of your hard work is paying off!
Love this episode? Tune into the next one!
Please consider subscribing to this podcast and leaving an honest review. Your ratings and reviews really help and I read each one.