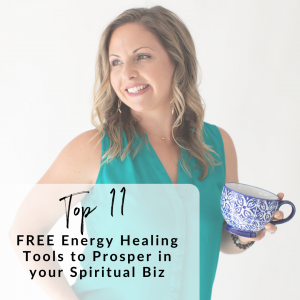 No doubt about it… the journey of a spiritual entrepreneur has its ups and downs!
Knowing how to support your energy to meet all your needs is what helps you stay in your biz without feeling overwhelmed, run down and depleted in the process.
I'm sharing 11 free resources to support any energy healing needs, self-doubt sabotages and highs or lows that come your way so that you can prosper no matter what.
No matter what.
I'm giving you variety since there's no "one size fits all" when it comes to what you will need when it comes to healing your energy (I prefer one-size-fits-YOU!).
Grounding, integration, calm, mindset – it's all here!
And should you want more, stay tuned for my Bad Ass Biz Bundle at the end of this post to 10X your mindset and get those results when you're ready for that next level of ease and badassery in your biz.
Here are my top 11 energy healing tools to prosper in your spiritual biz:
1. Cleanse your karma!
We do not want to carry the energy of the past into a new year. Just, no!
Take the time to listen to this Karma Cleanse that I record in every January and try to do it at least seasonally! Also take a listen to my Mid Year Karma Cleanse that was just recorded this May!
Listen here: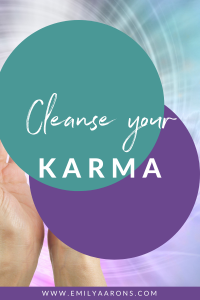 2. Abundance Meditation
Are you ready to open up to more abundance? Well, who the heck isn't???
What better way to welcome prosperity than listening to my free abundance meditation.
You have nothing to lose and EVERYTHING to gain.
Listen here: Free Guided Meditation to connect to the universal flow of abundance
3. Setting some goals.
Setting goals at the beginning of the year is common, but I also recommend doing it more than once a year. Why not with spring cleaning, summer solstice, or as you welcome fall?
Before you set your goals, I invite you to listen to this podcast episode that will caution you against setting "realistic" goals.
If we don't push ourselves, nothing will change.
Listen here: How to Set And Achieve Unrealistic Goals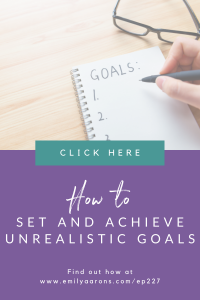 4. After you set your unrealistic or stretch goals, I have a meditation for you to make that sh*t happen!
This is for the big goals, mind you. The ones outside of your comfort zone that can be life changing. Go for it!
Listen here: EP 100: 100 Hitting Big Goals Meditation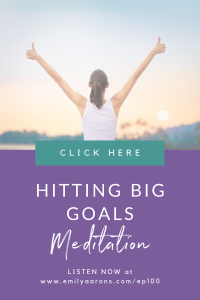 5. Learning to tune into your intuition for your personal life and your business is probably the best gift you can give yourself.
I've created a free Mini Intuition Master Class to help you get started.
No matter what you need advice on, if you learn how to ask your intuition questions and receive support, it will help you stay focused and calm – and rocking it!
Find it here: Mini Intuition Master Class
6. Release your limiting beliefs.
In sharing valuable energy healing tools with you, I can't leave out information about limiting beliefs.
This is a really important podcast about focusing on how to stop saying things like "I don't have enough money", or "I can't afford it". This applies to saying you don't have enough time or energy too.
Recognizing these patterns and bringing awareness to them can help get you off whatever hamster wheel you've found yourself on (mine was the broke hamster wheel!).
Listen here:
Why You Should Stop Saying I Can't Afford It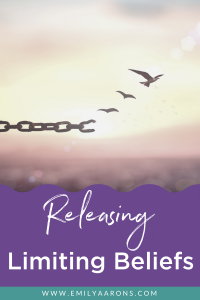 7. Allow the support of crystals!
What if I told you that you could make a crystal grid to help you for your next business launch or to reach your next big hairy goal?
Well… that IS what I'm saying in this podcast episode.
Remember those unrealistic goals from earlier? A crystal grid can help with that too!
Listen here:
How to Make Crystal Grids And Make More Money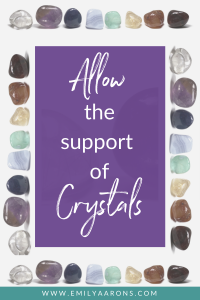 8. Let's face it. Every year has its ups and downs. No year is ever going to be perfect because we're here to grow and learn.
However, you don't want to stay in the down part too long so I'm including this pep talk for you, any time you feel you need it.
It's a pick-me-up that you can listen to more than once to keep yourself motivated.
Listen here:
A Pep Talk for Feeling Overwhelmed, Behind, or off Your Path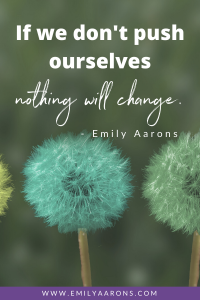 9. How to clear your energy and raise your vibration in an instant.
Meditation is one of the best things you can do for yourself, like ever.
BUT, I'm not crazy to think everyone has hours every single day to devote to it.
This is an important addition to your toolkit to be able to raise your vibration no matter what is happening – because it only takes an instant.
Listen here:
How to Clear Your Energy And Raise Your Vibration In An Instant
10. How to use Human Design to upgrade your business.
Could there be certain ways you approach life based on your Human Design? It's worth learning more about it because the more you know about how you manifest, react and respond to life – the more empowered you are!
Listen here:
How to Improve Your Life and Business Using Human Design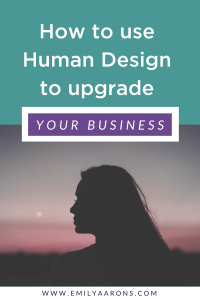 11. Finding the right next steps.
Sometimes we just need a little help to find the right next steps. As entrepreneurs we make an overwhelming number of choices each day.
It can make it hard to know what to do next and in what order.
This is a resource to help you choose the next step, that's most right for you.
Listen here: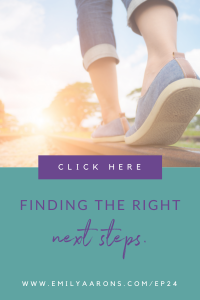 I hope these tips help you kick butt in your business and welcome an abundant life. You deserve it!!!
And if you are ready for more, I'd love for you to check out this Bad Ass Biz Bundle to 10X your badassery and keep making AH-MAZING things happen in your life. It even includes a meditation to attract your soul mate clients to YOU with ease!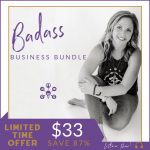 Be in your power, attract your clients, create the life you DESERVE.
Find out more about it here: Bad Ass Biz Bundle
You're worth it and I believe in you!