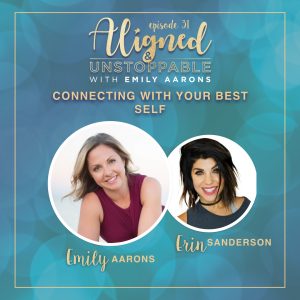 In our 31st episode of the Aligned & Unstoppable podcast, Emily talks with her friend Erin Mullins Sanderson. Erin is a traveling musician, professional singer, and skin care product maker. She comes to the show to talk about being herself and how you can be yourself as well.
Episode Highlights:
Erin talks about her struggle through hyperthyroidism and how she received treatment.

Erin considers how she has been moving away from "toxic" makeup, skincare, and healthcare.

Erin speaks on how her personality changes informed her perception on issues working with her skincare line.

Erin discusses her husband's Ulcerative Colitis, and how it caused her to slowly transition into homeopathic medicine.

Emily talks about how she dealt with her hip after her second child and how she could not fully believe her doctor.

Erin shares how she felt "it was a dream" to  began her journey toward her skincare product line.

Erin shares the strategies for working through her struggles, or those "pebbles in the road."

Emily discusses her schedule changes and adaptations to make room for her baby.
3 Key Points:
In order to maintain your best life and live fully, consistently watch what you consume and what you use in your life.

When you need to consult a doctor, make sure to listen to your intuition along with their professional opinion.

When you come across a struggle in your life, fight through it and find meaning within the struggle.
Tweetable Quotes:
"The fight… keeps the fire going." – Erin Mullins Sanderson

"We can so easily listen to that inner mean girl and just tune out everything else." – Emily Aarons

"I'm very aware that things happen in perfect timing." – Erin Mullins Sanderson
Resources Mentioned:
>> THANKS FOR LISTENING! GET MY FREE ABUNDANCE MEDITATION HERE!
Ready to dive deeper? Join the Mastery & Ascension membership to learn the spiritual tools to break through your blocks, align with your highest self, and gain clarity to become FULLY Aligned & Unstoppable! Simply CLICK HERE to join!