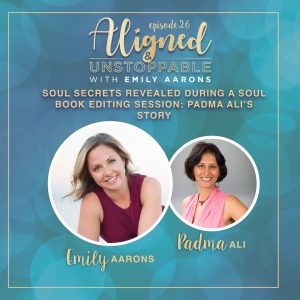 In our 26th episode of the Aligned & Unstoppable podcast, Emily takes you "down the rabbit hole" into what it feels like to have a Soul Book Editing Session, what it feels like when energy starts to shift, and the tangibles to what happens in "real-life."
Episode Highlights:
Padma Ali's background in psychotherapy, her health and a major shift in her journey.
She shares the moment that sparked the shift in her life and practice.
The need for helping health and saving the planet
Defining "Astral Travel", and what it means for our life and business.
Padma shares how knowing your soul purpose shifts how you show up and connect with your community.
Padma and Emily share about a particular session that was a "turning point" for Padma.
Essential Oils can trigger your thoughts and energy for transformation.
Padma shares about "limiting beliefs", and how they hold us back.
3 Key Points:
As Entrepreneurs, we need strong support systems.
The key is to wrap the energetic with the tangible and strategic.
"Limiting Beliefs" have a profound effect on how we interact with the world around us.
Tweetable Quotes:
"When there's a need you start finding things that can support your health and wellness, whether it's that of your mind or body or your environment." – Padma Ali
"If I don't do it in my real life, it is going to show up in my sleep." – Padma Ali
"When I shine my light, it allows other people permission to shine their light." – Padma Ali
"Celebrating gives us an opportunity not only to be grateful for what we have but to be open to receiving even more." – Emily Aarons
"You don't need to know what the entire road looks like, you just need to see what's right in front of you." – Emily Aarons
"Smells can help transform emotions so quickly." – Padma Ali
Resources Mentioned:
> THANKS FOR LISTENING! GET MY FREE ABUNDANCE MEDITATION HERE!
Ready to dive deeper? Join the Mastery & Ascension membership to learn the spiritual tools to break through your blocks, align with your highest self, and gain clarity to become FULLY Aligned & Unstoppable! Simply CLICK HERE to join!